Prayers of Trust


Blessed Is He Who Trust
11/16/99
"Most blessed is the man who believes in, trusts in and relies on the Lord, and whose hope and confidence the Lord is."
Jeremiah 17:7
Father, it's not self-confidence I seek, but confidence in Jesus Christ. Your word says, "...Apart from Me [cut of from vital union with Me] you can do nothing." Jeremiah 15:5. It's not in my strength, but Your strength O God, I can do all things within Your will. As long as I put my confidence in You, You promise to give me the victory; but You must get the glory due You. "Thus says the Lord; Cursed is the strong man who trust in and relies on frail man, making weak flesh his arm and whose mind and heart turns aside from the Lord." Jeremiah 17:5 Lord, You did not create me to fail, Your word says, You will even take our mistakes and work them out for our good, on our way to success. Hallelujah! I thank You Lord for Your love, goodness and mercy. You took all my mistakes and turned them into miracles. You took my sin-filled life and transformed me into the image of Your Son. I give You praise and glory.
You gave me a destiny for my life to become an intercessor prayer warrior. You brought me through all kinds of trials and tribulations before I surrendered and You never left me or forsook me. Before the foundation of the world You designed and planned out my destiny. I went through many things while You were developing me for my ministry. Even though I strayed from You, You patiently waited for me to surrender. It boggles my mind Lord, knowing how far and how long I would turn my back on You; You still loved me and believed in me. I thank You.
I know You have a further calling on my life, what that calling is, You have not revealed yet. But, Lord I'm willing, I'm Your vessel to be used however You want to use me.
Father, help me to not let the devil get a foothold on me. I need Your strength to keep that door closed to his attacks. Do not allow him to steal my confidence. "Yet amid all these things we are more than conquerors and gain a surprising victory through Him who loved us" Romans 8:37. I will stand firm on Your Word Lord, that I am more than a conqueror through You, that I already have the victory before any problem arises.
I thank You Lord that You are stronger than my weaknesses and You give me the victory. I can, like David be a giant killer with a heart full of confidence. I thank You for my salvation, for Your strength, Your love, for Your indwelling Holy Spirit. Father, I put all self doubt in Your hands and I wll step out in faith and confidence in You to do Your will.
Lord, I humbly lean upon You, I beleive that whatever You are calling me to do, You will equip me fully with Your power to succeed. Lord, You said, I was created in Your image, and You filled me with potential---with You nothing is impossible. Lord, I have a lot of 'wish-bone", but not much "back-bone". Help me to develop my dreams and visions into a reality.
GOD speaks and I listen carefully: Child, if you will step out in faith I will meet you with my strength, wisdom and the ability to succeed at anything I give you to do. You have resourses you never realized you had, for I placed them in you a long time ago.
Be strong in Me, empowered by your union through Me. Draw your strength from Me, which I give to you in boundless measure. As you fellowship with Me, My Holy Spirit will pour strength into your human spirit.
Child you have potential and a future and if you trust me, work hard and refuse to give up; I will walk you across the finish line. I fill you with My Spirit to not do easy things, but to do the impossible things. So keep your eyes on the prize and press on.
If I Am for you child, who can be against you. Let Me transform you to do the things My way, I will change you into something you never dreamed possible.
Child strip off and throw aside every encumbrance; you are a winner in My eyes, I will support your goals and help you fulfill My purpose on earth and I will give you victory. Glorify Me, child, by living your life and being all I intend for you to be. So run that race that you may lay hold of the prize and make it yours. Listen to My Holy Spirit and then take action!
Child, sel-discipline is the most important feature in your life. If you do not discipline your mind, mouth and your emotions, you will live in ruin. Learn to rule your temper so you can achieve the success that is rightfully yours. Resist being negative-take authority and control over these before they rear thier ugly heads.
So child, run the race that is before you with patience and keep your eyes on My Son and use His life as your example. My timing is not your timing. I know the exact time that is right so don't rush Me child. I am laying a solid foundation in you. I am the Master Builder and I know what I am doing, I will never be late.
Sweet child, patience is a fruit of the Spirit that grows under trails.
Surrender your will to Me and place your self in my hands and trust My timing. I lvoe you sweet child-remember I gave you all the potential you need to do My will, so go out in faith -I am right there with you.
Shalom child, continue to live in peace-for peace I give to you. Your Father.
Written by "Susie" VSD-G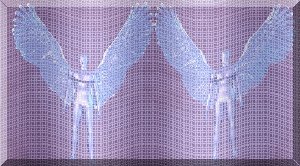 The Fullness of God and the Hope of Glory
"To them God willed to make known what are the riches of the glory of this mystery
among the Gentiles which is Christ in You, the hope of glory"(Col. 1:27).

Father, You have placed Your Son in me, and His fullness dwells within me, and He brought His divine resources with Him. Every time I face a need, I can meet it with the presence of the crucified, risen, & triumphant Lord of the universe inhabiting me. You have placed Your Son in me so that He can carry out His assignments through my life.

Lord Jesus, I give You total access to my life for You to live Your life through me. Help me, O Lord, to be a servant worthy of Your name.

Lord, I believe, help my unbelief. My greatest difficulty is in believing that my relationship with You is at the heart of my Christian life. I pray that when others watch me as I face a crisis, they will see You, the risen Lord responding. I want my family to see the difference You have made in my life, as I face that crisis. I want them to see the difference of Your presence in me. Reveal Yourself through me, O Lord, to those around me, by Your mighty work through me. I want my family, friends, and co-workers to see Christ Jesus in me on a daily basis as I allow You to live Your life through me.

"But you are a chosen generation, a royal priesthood, a holy nation, His own special people, that You may proclaim the praises of Him who called you out of darkness into his marvelous light" (1 Peter 2:9). I am Your priest, chosen by a Holy Father, a member of a royal priesthood; I have constant access to my King. If I have a need in my life, I don't have to find an intermediary or enlist another priest in order to gain a hearing from the King. My position as a royal priest allows me direct access to You, Praise Your holy name!

You have chosen me not to work alone, but to function with other royal priesthood of Your royal family. I represent You to the unsaved world and the saved, but I also have the responsibility to take the concerns of the people to a Holy God through intercessory prayer. Thank You, Father, for allowing me the privilege to enter into Your Throne Room with their prayer requests. I pray that someone will come to know Your Son, by seeing Him expressed through my life. Our world hungers for an expression of Your Son, by seeing He really is, living out His life through His people. O Father, my I be that person who expresses my Lord Jesus in my daily walk in life. Help me Lord!

Father, as I relate to Your Son, the Truth; refine me by that Truth, as I prepare to be Your witness. Chastise my lack of faith; reflect Satan's influence, and denounce my pride, and when You're finished preparing me, then send me out in such power that my world will never be the same again.

Satan has tried to convince me that my sins render me useless to You. I know that is a lie from the author and father of lies. When I listen, it brings such a deep sense of defeat and hopelessness to me as a Christian. Yet, there is no freedom that compares to a soul set free by Your grace! When I allow Your truths and Your standards to realign my will, then Your power will be released through me the same way it was released in the early disciples.

The Truth will set me free. The Truth is "If we confess our sins, He is faithful and just to forgive us our sins and to cleanse us from all unrighteousness (1John 1:9), and we are restored to usefulness to God". Hallelujah! "Sanctify them by Your truth, Your Word is truth. As You sent me into the world I also have sent them into the world" John 17:17-18).

Father, Your love filled Your Son. Jesus recognized that no ordinary love could motivate Him to go to the Cross. No human love could keep Him perfectly obedient to You throughout His life. Only His Father's love was powerful enough to compel Him to commit His life to the saving purposes of the Cross. Jesus, prayed that You would place that same love in His disciples; I too ask for that same love to enter my heart, because without that love, nothing else can motivate me to be sufficient for the assignments You have for me. Father, I will be incapable of ministering to those You send to me without that love. Unless I have Your love, I will be unable to forgive others, or go the extra mile with others, or sacrifice for others, unless I have been filled with Your boundless love.

I seek to know You and Your immeasurable love, so others will see Jesus through me! "
Righteous Father! The world has not known You, but I have known You and these have known that You sent Me. And I have declared to them Your name, and will declare it, that the love with which You loved Me may be in them, and I in them
" John 17:25-26). O Abba Father, I want to know You as Your Son knew You so I may enter into Your Holy of Holies to declare to the world, the saving grace and love of Your only Son, who died for me and others on that Ole Rugged Cross for our sins.

Father impart to me Your Sons patience, His love, His holiness, His faith, His purity, His godliness so I can experience Christ in me, the hope of glory! I don't want to talk about holiness or sings pious hymns, but just glorify my Lord Jesus, by letting Him control my life. He will proclaim in me: love, joy, peace, patience, kindness, goodness, faithfulness, gentleness, and self-control. Jesus is my true Vine and the Father is my Gardner! You lop off every branch that doesn't produce; and You prune those branches that bear fruit for an even larger crop. O live in me, Lord Jesus and let me live in You, so I may bring great joy to the Father.

Jesus I've asked to be filled, because I was thirsty, when I should have been satisfying You. I should be pouring out my life, investing my total being, not drawing on You to satisfy my needs. That means I must live a life of purity, uncompromising, and unrestrained devotion to You, which will satisfy You wherever You may send me. I want to pour out my life completely for You; my goal being of the call of God and Your satisfaction, not simply doing something for You. I am not sent out to do battle for You, but to be used by You, in Your battles.

O Lord Jesus put me in the shadow of Your hand. Teach me how to be still and listen. Your Word says, when You give me a vision and darkness follows, wait. You will then bring the vision You have given me into reality if I will just wait on Your timing.

Help me, O my Father, to grow past the point of relying on my own common sense. Help me to wait upon You and be grounded in Your love. Help me to go beyond all confidence in other people of God and myself. I must place my confidence in You, not in Your blessings, for You are Almighty God -El Shaddai, the All Powerful God, then people will pale by comparison, becoming shadows of reality-nothing that other saints do or say can ever hurt me if I am built on You. "Obedience keeps me in the light as You are the Light."

Father, being born again by the Spirit is unmistakably Your work, as mysterious as the wind, and as surprising as you are. I don't know when it begins-it is hidden away in the depths of my soul. Being born again from above brings me an enduring, perpetual and an eternal beginning. It provides me freshness at all times in thinking, talking, and living-being a continual surprise of Your life. Jesus prayed that I might be one with You just as He is One with You, with nothing in between. Father, I want to keep my whole life continually open before Your Son and to draw upon His resources. Being born of Your Spirit means much more than we usually think. It gives me a new vision and keeps me absolutely fresh for everything through Your never-ending supplies.

Father, I want everything in my life to fill Your heart with gladness, I do not want to constantly complain because things don't seem to be going my way. A person who has forgotten Your treasures will not be filled with joy. I must remember that Your Son has needs which I can meet, I pray that my life will be a good reflection of His reputation.

I want to be filled to overflowing with love for my Jesus as I was in the beginning; when I went out of my way to prove my devotion to Him. O, Lord Jesus I do love You with a love that takes no thought for where You might lead me-have Your way with me, My Father.

Father, do not let Your blessings divert my attentions elsewhere, narrow all my interests until my spirit, soul, and body are focused completely on You. Your Word says, "Look to Me...." If I will only concentrate on You, I will find what my heart is truly looking for, my difficulties, my trials, and my worries about tomorrow, will all vanish when I look upon Your face. Help me to concentrate on keeping my life open to You. May I let everything else including work, clothes, and food be set aside so I only concentrate upon You and beholding You, keeping my life completely spiritual through and through. Father, may I let other things come and go as they will, let other people criticize me as they will, but may I never allow anything to obscure the life that is hidden with Christ in God. I pray that I will never let a hurried lifestyle disturb my relationship of abiding in You.

With an unveiled face I want to behold as in a mirror, Your glory by being transformed into Your image. So be it Lord Jesus, may Your Word dwell in me richly. Amen
Written by VSD-G
1/20/01

View My Guestbook
Sign My Guestbook
Sign my guest book
Send to a friend