Guidance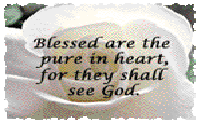 Psalms 119

Happy are all who perfectly follow God's laws. Happy are all who search for God and always do His will, rejecting compromise with evil and walking only in His path. You have given us Your laws to obey.
How may a young man stay pure? By reading God's Word and following His rules. I have tied my best to find You, please don't let me wonder off from Your instructions.
Blessed Lord, teach me Your rules. Bless my life so that I can continue to obey You. Open my eyes to see wonderful things in Your Word. I am but a pilgrim here on earth. I long for Your instruction more than I can tell. Help me to obey You even when others scoff and make fun.
Revive me by Your Word. I told You my dreams and You replied. Now give me Your instructions. Make me to understand what You want, for then I shall see Your miracles. Encourage me and cheer me with Your Words. Keep me from all wrong, help me to obey Your laws, for I have chosen to do right. I cling to Your commands and follow them as closely as I can.
Lord don't let me make a mess of things. If You will only help me follow Your laws even more closely. Just tell me what to do and I will do it, Lord. Help me to prefer obedience to making money! Turn me away from wanting any other plan than Yours. Revive my heart toward You. Reassure me that Your promises are for me, for I trust and reverence You.
May I never forget Your words, for they are my only hope. I will keep on obeying You forever and forever.
How I love You, come, come, to me, for I love You , Lord. You are the light of my life. Never forget Your promises to me, Your servant, for they are my only hope. They give me strength in all my troubles. Keep my thoughts O Lord, on You.
Jehovah is mine! And I promise to obey! With all my heart I want Your blessings.
I've thought about the wrong directions, I had been going in and where I was headed, but, I turned around and came running back to You. I made a vow that this time I would not stray again.
Lord the earth is full of Your loving kindness. Teach me Your good paths.
Lord I'm overflowing with Your blessings, just at You promised. Now teach me good judgment as well as knowledge. Your Word is my guide. You are good and do only good, help me to follow Your lead. You made my body Lord, now give me sense to heed Your Word.
Let Your loving kindness comfort me, just as You promised. Surround me with Your tender mercies. Help me to love Your every wish; then I will never have to be ashamed of myself.
Forever, O Lord, Your Word stand firm in the heaven. Your faithfulness' extends to every generation, like the earth You created; it endures by Your decree, for everything serves Your plans.
I am Yours! Nothing is perfect except Your Word. Oh how I love Your Word. I think about Your Word all day long, they make me wise. Your Words are a flashlight to light the path ahead of me, and they keep me from stumbling.
Accept my grateful thanks and teach me Your desires. I am determined to obey Your Word until I die. You are my refuge and my shield and Your promises are my only source of hope. Bless me, O Lord, deal with me, deal with me Lord in loving kindness and teach Your servant to obey, for I am Your servant, therefore give me common sense to apply Your Word to everything I do.
Come have mercy on me as it is Your way with those that love You. Guide me with Your Words so that I will not be overcome by evil. Look down in love upon me and teach me all Your Word. I have thoroughly tested Your promises, and that is why I love Your Word so much. Early in the morning, before the sun is up, I am praying and pointing our how much I trust in You. I stay awake through the night to think about Your promises, because You are so loving and kind, listening to me. Lord see how much I really love You, because You are so kind, there is utter truth in all Your Words.
I rejoice in Your Word like one who finds great treasure, how I love Your Word. I will praise You seven times a day because of Your Word. Those who love Your Word have great peace of heart and mind and do not stumble. I long to be in Your presence Lord, because everything I do is known to You.
O, Lord listen to my prayers, give me the common sense You promised. I will praise You for teaching me Your Word. I will seeing about their wonder, for Your Word is just. Stand ready to help me because I have chosen to follow Your will.
Written by VSD-G

Eyes of My Spirit
VSD_G 4/6/99

Father, I Pray that You keep the eyes of my spirit open to the risen Christ, never allowing myself to think that some tasks are beneath my dignity or too
insignificant for me to do; help remind me to always be an example of Christ.
"Most assuredly, I say to you, a servant is not greater that his master, nor is he sent, greater the He who sent Him." (John 13:16)
Father, I thank You that as I spend time in Your quiet presence, You release my fears and You refresh my soul. When I spend time with You, I am then able to get on with life with a lighter heart, better sight, and a calmer spirit. I discover again, how beautifully the truth set me free. Hallelujah!
Father, I thank You, that as a loving parent, You are always ready to comfort and strengthen me. You are my life, my all. Your presence is forever an inseparable part of who I am and how I came to be. "How precious is Your steadfast love, O God! All people may take refuge in the shadow of Your wings." (Psalms 36:7)
I am looking to Your light of understanding within me to guide me through my trials and adversities. It's Your divine wisdom that saves me from taking wrong turns in life's trials.
Thank You Father for keeping me from wondering in the desert of confusion. Your tender mercies enfolds me and strengthens me. The light of Your wisdom radiates out from me in the crisis of every day matters. "By the tender mercy of our God, the dawn from on high will break upon us." (Luke 1:78)
Father, I thank You, that You give me peace of mind that comforts my heart. Your peace which passes all human understanding, calms all fear. I know without a doubt that wherever I am, You are watching over me and restoring my inner peace. "And the peace of God, which surpasses all understanding will guard your heart and your mind." (Philippians 4:7)
Father, I do have faith in You. As I open my mind, heart and life to You, marvelous happenings occur. I know I can do all things because I rely on You for direction. I have faith in You Lord, for Your Spirit reaches out through the prayers of Your Saints and through the Word of God. My faith is a palpable vote of confidence in Your presence and power within others and me. Through that faith, I know when I lift up others in prayer, You are listening and answering my request. "Commit your way to the Lord, trust in Him and He will act." (Psalms 37:5)
Your Word to me says, "Trust in Me, beloved, and know that You are not alone. I am always with you to help and support you. Let go of any concerns you may have for t he days and weeks ahead, and let Me guide you to the happiness and fulfillment that you seek. Let go and let Me work in and through you .
Thank You Father for Your Words of encouragement, I thank You for loving me, and for caring for me and especially for the gift of grace, the promise of eternal life. Thank You for the promise of eternal love, and all the joy, comfort, and peace that comes with it. Whenever I need comfort, strength, healing, prosperity, harmony, and joy, Your grace is the answer. With love and gratitude I accept Your blessing of grace in my life. "Did I not tell you that if you believed you would see the glory of God." (John 11:40) I believe You Lord!
"Your Guiding Light"
11/5/99
Father, I was once a foolish disobedient, deceived sinner, lost and without God, but, praise the Lord, I was found by You. Thank You, Father, that I have been washed by the Spirit, sanctified in the Son and justified before You. Hallelujah!
Father, with You as my guide, I know I will always be on the right track. I will know there is a reason for being where I am and for learning the lessons in life which I am learning. So, Father, as I trust in You to show me the way, I will always be on the right track by living a spiritually enriched life. "If we live by the Spirit, let us also be guided by the Spirit." (Galatians 5:25)
Father, I recognize that You are the one presence and power in my life. You continually bless me. Your gifts of life could never be earned or bought by me, and I do not take Your gifts for granted. I have faith that my needs will always be met by Your divine love. Father, I thank You. I have not the words to express my thanks to You. I can only thank You by living and walking in Your Light and by sharing Your gifts with others.
My soul longs for You, O God. You are my comfort and my strength. As my thoughts go deeper into Your presence, I forget all the tension of the day melting away and You give to me an inner peace that surpasses all my understanding. Only You God can give me that peace.
Father, I am willing to follow where You guide me. I know that on any path You lead me, I will discover even more of the glory and wonder You created. "You hold my right hand; You guide me with Your counsel." (Ps 73:23-24) I thank You Father that You are actively at work in my life. We are one in Spirit. I see Your beauty and majesty all around me. I thank You that I have the sweet assurance of Your eternal love and grace.
I have been blessed by Your joy, peace, love and comfort and I pray that all people will come to know the power and magnitude of Your grace and receive the same comfort. I am filled to overflowing with thanksgiving and gratitude.
I thank You Lord, that You are always with me, helping me to be ready for whatever my appear, by constantly renewing my mind and spirit.
Father, I thank You that I am secure in the knowledge that I am guided, protected and loved by Your divine power. By faith, You prepare me for dealing with any situation that might present itself to me as I live my life on the firm foundation of Your love. "According to the grace of God given to me, like a skilled master builder, I laid a foundation. (1 Corinthians 3:10)
Father, whenever I start to doubt my own abilities or feel uncertain about things in life, I then remember Your words to Joshua: "Do not be frightened or dismayed, for the Lord your God is with you wherever you go." It is reassuring to know that I am always in Your loving presence. You, O God are all-powerful, You are the power that moves those mountains of challenges that come my way. I place my whole life in Your hands, and then I watch the miracles happen!
Out of the abundance of Your love, I receive Your many blessings. I know they are in my life to help me to share with other. You bless me with Your presence in prayer; You bless me with loving friends, physical strength, and emotional well being. These are all wonderful gifts and I give You my heartfelt thanks and thanks for Your abundant love. I am blessed every time I let go and let You be God. I gratefully accept every blessing as an outpouring of Your love for me, my caring Creator. "O God, You are my God, I seek You, my soul thirst for You." (Psalms 63)
Father in Your presence, I find unconditional acceptance and love. I thank You for the indwelling Holy Spirit who is the source of all life, which energizes me, and the breath, which renews me.
GOD SPEAKS: Dear child, let My grace assure you of My Presence and My love for you. You are my sweet child. Always walk by faith, not by sight. Keep alert, stand firm in your faith and rejoice in My loving presence.
Child, My Spirit within you is your source of freedom. Freedom from negative habits and freedom to express your love and testify of Me.
Child prayer is a refreshing break that brings you comfort and peace of mind. I am the Root that goes deep down inside of you and supports, and blesses you.
Child, let me satisfy the thirst of your soul, I am Your comfort, and I am the one who empowers you to be eternally one with Me. I am love, let My love, My peace wash over you clearing away any tenseness or anxieties. Be silent, sweet child, stay focused on My Spirit and receive the resurgence of energy I'm extending to You.
Child, My love is eternal and knows no limitations, it will never lessen or fade away. Open your heart, soul and mind to Me and let Me anoint you with My Presence, power and love. Give Me your all; surrender to My guidance and direction and I will open doors for you that you never dreamed could be opened.
As I fill your heart with My joy, My Peace, My love, be ready, My child to be touched by My power to fulfill the mission I have ordained for You. You are My child and I am well pleased with your progress. So with child like wonder accept My blessing and My guiding light encircling you, preparing you for more of my power and more of My Spirit. Your prayers have been heard, My response is, so be it, let it be done. Prepare yourself, cleanse yourself daily, read My Word, and prepare to come into My Presence for your blessing.
Child, I am molding, shaping you, and making you a holy child of Mine to receive the special gifts that are distributed by the Holy Spirit according to His will. "What no eye has seen, nor ear heard, nor the human heart conceived, what God has prepared for those that love Him." (1 Corinthians 2:9)
From this time forward, I will make you hear new things. Keep your heart with all watchfulness for from it will flow springs of new life. Live by and be guided by the Spirit. My hands have made and fashioned you; I will give you understanding to carry out My commandments.
Shalom child, remember that there is fullness of joy in My Presence.
Written by "Susie"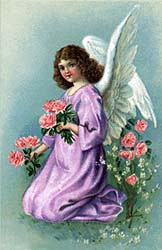 Wonderful Gift of Grace

Abba Father, thank You for the wonderful gift of grace and blessings You have given to me. From out of Your glorious, unlimited resources You have given me an inner strengthening of Your Holy Spirit. I pray that my roots will go down deep into the soil of Your marvelous love. That I will be able to feel and understand how long, how wide, how deep and how high Your love for me really is; and to experience this love for myself, though it is so great I will never see the end of it or fully understand it. I just want to be filled up with Your love Father, and to share that love with others.
Abba Father, I deliberately give my sanctified life to You for Your service, So that You can use me as Your hands, and Your feet. Father do with me, as You will, as I surrender my all to You, to Your Son and the Holy Spirit. Father as I recognize and respect You for who You are, I submit unto Your authority and righteous demands, which in turn will bring me results in godly living, worshipping, trusting, serving and obeying You. You are my sure Foundation, my Source of inner security and strength. Hallelujah! I give You praise and glory.
Abba Father, long ages ago You planned that we should spend our lives helping others. You who made us what we are and gave us a new life in Jesus Christ. Father, I thank You that Jesus died under Your judgment against my sins, so that He could rescue me from constantly falling into sin and make me His very own, with a clean heart and a real enthusiasm for doing kind things for others.
You have made me the kind of child You want me to be-rewarding my faith with Your power. You are at work within me, helping me to obey You and helping me do what You want me to do. Father, I yield my individuality to You so that my spiritual life may be brought forth into fellowship with You, and that my spiritual life will be allowed the opportunity to grow. "Jesus said to His disciples, "If anyone desires to come after Me, let him deny himself…." (Matthew 16:24) Father, my desire is to come after You.
Father, I know there is no greater way than Your way, so I pray I will be aware of the most gentle word of guidance from You. Deep within my soul comes a feeling, a certain knowing that You have spoken to me, Your will. I thank You that You uphold me and inspire me.
I thank You that You love me with an everlasting love. Father, bless me so that I am aware of You, as I touch, smell and taste the wonder of Your of diverse creativity. "In Him we live and move and have our being." (Acts 17:28)
God Speaks: Sweet child let Me assure you of My love. I love you with an everlasting love that knows no boundaries; all I ask is that you accept it. It is My gift to you.
Child, let your soul be enfolded in My divine embrace. Let Me lead, strengthen and revive you to Your fullest.
Child be a beacon of My love and be an expression of My love to others. Give them a hug and a helping hand and let others hear My love expressed in the sound of your voice.
Child I am the keeper of the keys that unlocks the door to your blessings. Rely on Me for guidance, and I will show you what you need to do to accomplish what you need to accomplish.
Child there is one thing you must do-stay close to Me. Let nothing distract you. Always keep your eyes on Me and you will see My glory. Place your hand in Mine and let us begin a great journey together.
Child I am the Way-yes, and the Truth and the Life. No one can get to the Father except by means of Me. I am the Good Shepherd and I laid down My life for you and others. You should have no desire for this world as dead persons do. Child your real life is in heaven with Me and when I come back for you and my Saints, you will shine with me and share in all My glories.
Child, be happy if you are cursed and insulted for being a Christian, for when this happens My Spirit will come upon you with great glory. Be careful how you handle yourself around the unsaved, even if they are suspicious of you and talk against you, for they will end up praising Me for your good works when I return. Remember you are my temple, My dwelling place. You have been chosen by Me so that you may show others how I have called you out of the darkness into My wonderful Light.
Child, My Son shines out with My glory, and all He does marks Him as My Son, Your Kinsman Redeemer. Honor Him and I will honor you. He is able to keep you from slipping and falling away and bring you, sinless and perfect into His glorious presence with mighty shouts of everlasting joy. Amen
Shalom Child. Remember that I love you with an everlasting love, you are my beloved child. Your Father.
Written by VSD_G
12/10/11/99
Send to a friend