Victory Prayers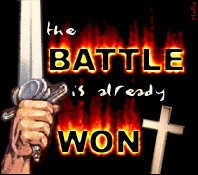 Victory
O Lord God answer me in my distress, may the name of Jehovah God, Yahweh protect me. O send help from Your sanctuary and grant me support from the enemy.
I give You the sacrifice of praise and thanksgiving. I will shout for joy in my victory. I will lift up my hands to praise the Holy One of Zion.
Lord, You are my refuge and in You I put my trust. O how I rejoice in You my King. What great joy and victories You give. You have granted the desires of my heart! Hallelujah! I give You praise and glory.
O grant to me the joy of Your Presence, for I trust in You my King. I lay down my life for the Most High God. I surrender my will, my emotions, and my heart, soul and body to my King. I will exalt Your Holy Name and sing and praise Your might.
May the words of my mouth and the meditations of my heart be pleasing in Your sight. You are my Rock and my Redeemer.
Through Your unfailing love for me I will not be shaken for Your hand will lay hold on my enemies-At the time of Your appearing You will make them like a fiery furnace. In Your wrath You will swallow them up and Your fire will consume the evil one. Hallelujah!
Be exalted O Lord in Your strength; I will sing and praise Your might. To God be the glory and the power forever.
You have given me room to breathe again, released from the pressures and constraints that have held me in bondage! Hallelujah!
The wicked one intended evil against me, but You have prevailed, causing the adversary to flee from Your anger--I thank You my King for whom the Son sets free is free indeed.
I again confess my faith in You Lord and I will continue to call upon Your faithful answers. I will not doubt Your goodness, but be reaffirmed by Your lifelong love for me.
You are my Shepherd and You make me to lie down in green pastures. You have anointed me with the oil of Your Holy Spirit. You used Your rod and Your staff to rescue, and to protect me. You mercy and goodness will pursue me all the days of my life and I will live in Your house forever. Amen
Written by VSD-G 4/22/00

Troubles
2001
O Lord, my God though I walk in the midst of trouble, You preserve my life; You stretch out Your hand against the anger of my foes; with Your right hand You save me. You, Lord will fulfill Your purpose for me; Your love endures forever. You will not abandon the works of Your hands. (Psalms 138:7-8)
Let the morning bring me word of Your unfailing love, for I put my trust in You. Show me the way I should go, for to You I life up my soul. Teach me to do Your will, for You are my God; may Your good Spirit lead me on level ground. For Your namesake O Lord, preserve my life, in Your unfailing love silence my enemies, destroy all my foes, for I am Your servant. (Ps 134:8-12)
Father, I pray that You will cause no weapon forged against me to prevail. Enable me to contradict the tongue of my accuser. Thank You for giving me this heritage to Your servants, O Lord.
Dear Lord, please lead me not into temptation, but deliver me from the evil one. Father, help me to understand that Satan the ultimate thief comes on to steal, kill and destroy; You came so I could have life and have it more abundantly. Father God, I thank You that because I am in Christ, Satan the prince of this world has no hold on me.
Victorious God, I celebrate the fact that You, the God of peace will soon crush Satan under Your feet and until then the grace of our Lord Jesus is with me.
My Father, please help me to be on guard, according to Your Word, the god of this age has blinded the minds of believers so that they cannot see the light of the gospel of the glory of Christ who is the image of God. You Word says that only in Christ is the veil removed. O Father, please cause my lost loved ones to turn to You so that the veil will be taken away. Amen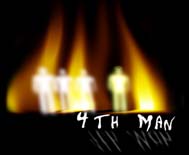 Rescue Mission
Lord, because You hear and answer prayers, I love You. Because You bent low to listen, I will continue to pray as long as I breathe.
Death stared me in the face-I was depressed, unhappy and alone, and then, I cried, "Lord Help!" Because You are the God of Your word, I rejoice! You were merciful, kind and good to me. Now I can relax. You reached down and performed the wonderful miracle. I was facing death and then You saved me. I live! Yes, I live in Your presence, here on earth! O Lord, You have delivered me from the depths and pits of hell, I will serve You forever.
O, thank You Lord, Your loving kindness is forever. In my distress, I prayed to You and You answered me. I am no longer in that hell pitt of depression, because You are on my side. It is better to trust in You than in man. It is better to take refuge in the mighty King! You are my strength and my new song of victory.
O Lord, thank You so much for answering my prayers and coming to my rescue. You are my Light and my salvation-I give You my sacrifice of praise Lord God Jehovah for Your loving kindness is forever.
I thank You, because You never forget Your promises to me. Blessed Lord teach me Your rules, I will delight in them and forget them. Open my eyes to see wonderful things in Your word. You have revived me by Your word, and I praise You.
Hallelujah! I want to express publicly before the world what You have done for me. Your miracle demonstrates Your honor, majesty, and eternal goodness to all that love and serve You. I will never forget the wonders You performed in my life--You deeds of mercy and grace. O God, my heart is ready to praise You! I will sing and rejoice before You. Your lovingkindness is beyond measure, high as the heavens. Your faithfulness reaches the skies. Your glory is far more vast that the heavens. It towers above the earth! O, how I love You, Lord for my life! I was slipping down a hill of death and You delivered me. I will give repeated thanks to You Lord for saving me. Praise the Lord!
Written by "Susie" VSD-G 1/31/00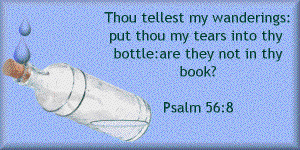 A Prayer for Susie
Father God, I thank You that those who belong to You were meant to be the head, not the tail! If I am obedient to You, the Lord my God, and do not turn aside from Your ways, You will not allow the enemy to keep me at the bottom (Deut 28:13-14).
There is no one like You, the God of Jeshurun, who rides on the heavens to help me and on the clouds in Your majesty! You, the eternal God, are my refuge, and underneath me are Your everlasting arms. You will drive out my enemy before me, saying, "Destroy him!" (Deut. 33:26-27)
Lord God when Your children, the Israelites, were defeated in a battle, You revealed to them that they were hanging on to something that did not belong to them. You said, "You cannot stand against Your enemies until You remove it" (Josh.7: 13). Father God, I earnestly ask You to reveal anything in my life that could be hindering victory, then give me the courage to release it to You.
Lord, my God, show the wonder of Your great love, You who saves by Your right hand those who take refuge in You from their foes. Keep me as the apple of Your eye; hide me in the shadow of Your wings from the wicked that assail me. (Ps 17:7-9)
I love You, Lord, my Strength! You are my Rock, my Fortress, and my Deliverer; You, my God, are my Rock in whom I take refuge. You are my Shield and the horn of my salvation, my Stronghold! I call to You, O Lord, who is worthy of praise, and I am saved from my enemies! (Ps 18:1-3)
Who is my God, except for You, Lord? And who is my rock except for my God? It is You, God, who arms me with strength and makes my way perfect. You make my feet like the feet of deer; You enable me to stand on the heights. You train my hands for battle. (Ps. 18:31-43)
You give me Your shield of victory, and Your right hand sustains me; You stoop down to make me great. You broaden the path beneath me, so that my ankles do not turn--- Arm me with strength for the battle; make my enemy turn back in flight. Thank You, God.
Lord God, I will shout for joy when You make me victorious and I will lift up a banner in the name of my God! Please Lord grant these request! (Ps 20:5)
VSD-G 12-4-00 Prayer answered....4/27/01...Giving victory to my Lord Jesus!

View My Guestbook
Sign My Guestbook
Sign My GuestBook