Deliverance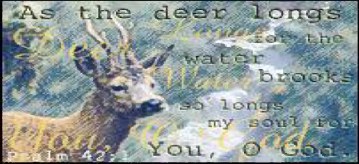 Psalms of Deliverance
Psalms 24:25:26:27
You, O Lord are my light and Salvation. You are the strength of my life, of whom shall I be afraid. Who may ascend into the hill of the Lord? Or who may stand in Your holy place? My heart shall not fear, for You dwell within me. O lift up Your head, O you gates! And be lifted up you everlasting doors! And the King of glory shall come in. And now my head shall be lifted up above my enemies all around me. I will sing, yes I will sing praises to my King for you said, "Seek my face"! My heart said to You, Your face, Lord I will seek. You are my help, O God of my salvation, the Lord God will take care of me.
Teach me Your ways, O Lord and lead me in a smooth path. One thing I have desired of You, O Lord, that will I seek; that I may dwell in Your presence forever to behold Your beauty and abide in Your temple.
To You, O Lord, I lift up my soul. O my God, I trust in You. Show me Your ways, O Lord, teach me Your paths. Lead me in Your truths for You are the God of my salvation.
Humble me as You guide me in justice and teach me Your ways. For Your name sake, O Lord pardon my iniquity, for it is great. Your secrets are with those who fear You and You will show us Your covenant. Look on my affliction and my pain and forgive my sins. O keep my soul and deliver me; let me not be ashamed, for I put my trust in You. Let integrity and uprightness preserve me. For I will wait on You, O God. You are the strength of my life. I will be of good courage and You shall strengthen my heart.
Blessed be the Lord, because You have heard the voice of my supplication. You are my strength and my shied. My heart trusted in You and I am helped! Therefore, my heart greatly rejoices and with a song, I will praise You. I will extol You, O Lord for You have lifted me up! Hallelujah! O Lord my God, I cried to You and You have healed me.
I sing praises to You, the God of my strength. O Lord my God, I will give thanks to You forever. In You, O Lord, I put my trust.
Thank You, sweet Jesus, in Your name I pray. Amen
Written and complied from the Psalms by "Susie"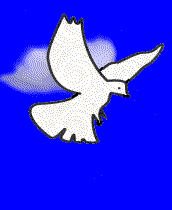 Deliverance
"He will keep in perfect peace all those who trust in Him, whose thoughts turn often to the Lord"
Abba Father, You are the God that supplies all our needs according to Your riches in glory by Christ Jesus. Father, Your Word says to bring our burdens to the Lord and You will carry them for us. You will not permit the godly to slip or fall. Father, I will trust and not be afraid, for You are my strength and my song, You are my salvation.
So therefore, Father, I bring my burden to Your Throne Room in agreement with other saints of God. Lord, my cousin/friend needs to be delivered from Satan. Father, his parents, wife and family do not condone what he/she did, but we recognize the hold Satan has over him/her right now and we come asking for mercy and deliverance. We come asking You to bind Satan from him/her and restore him/her whole again. "So I speak to you Satan and to the principalities, the powers, the rulers of darkness, and spiritual wickedness in high places; and the demonic spirit of ______ (lust, incest, etc.) and depression assigned to ________. I take authority over you and bind you away from _________ in the mighty name of Jesus. You loose ___________now and let him/her go free in the name of Jesus. And you go to the place Jesus has prepared for You!"
Ministering Spirits, I pray you go forth in the name of Jesus and provide the necessary help and assistance for __________, with your redemption, Your Word, Your Holy Spirit, Your love, Your wisdom, Your righteousness and Your revelation knowledge in the Name of Jesus.
Father, Your Word says when Your children come in agreement, You will pay special attention to our prayers. Hallelujah! I stand fixed, immovable, and steadfast in my faith that You have heard my petitions and You have made them Your very own. I believe that Satan and his cohorts have been bound and You have delivered _______ from the bonds Satan had around him/her. Your Word says, "that whatever we bind on earth, You bind in heaven." and Your Word does not return to You void!
Father, I also life up _______family. I pray that You will strengthen them and give them godly wisdom in all matters concerning _______. Father, give them that peace that surpasses all understanding. Ministering Spirits, I pray that you go forth in the name of Jesus and provide the necessary help to sustain ______ family during this adversity. Holy Spirit do a mighty work in them!
I thank You Father, that _________is delivered and is redeemed by the blood of Jesus (which I speak over him/her), he/she is justified and made righteous by Your shed blood, and I have the assurance that he/she belongs to You.
I give You all the honor, praise and glory! Amen
Written by "Susie" 1/5/99

Heal My Daughters, O God!
Father, I lift up my daughters ______ and ______ into Your throne room, I come in realization that it is only You who can truly heal a person's life and make them whole again.
Father, You know my daughters past, that they were both victims of incest and both were raised in a dysfunctional family during the early years of their lives. Only You know the full story of the deepness of their pain. Only You see the beginning from the ending of their lives. Only You know why some feelings exist in them. Only You know how to unravel the tangled web of emotions that have trapped my daughters into despair and despondency at the very core of their being.
That enemy within them, Lord demands attention that results in nightmares, that causes them to cry out in fear, or feel anxious to the point of tears in the middle of a crowd, or on a bright sunny day. I realize that the only true victor over that enemy is the power of the Holy Spirit resident within them to heal, comfort and give counsel.
O Father in heaven, may the Holy Spirit that indwells my daughters come bubbling forth and do all the healing, loving, and nurturing my daughters need. Heal them, O God of all their emotional needs. Father, reveal the real nature of their problems and heal them from the roots up.
Father, if they need a good Christian counselor, I pray that You, Lord God of Creation will lead them to just the one You have chosen for them. Father, I pray that by the power of Your Holy Spirit, You will bring the light of truth to bear on old issues and old feelings they have tried to bury and once and for all be healed. To put their past behind them so they can embrace fully and successfully the future You have laid out for them.
Father, I thank You for hearing my petitions, and because, I know that You have heard me, I am assured of the answers. My daughters are healed and delivered in the name of Jesus! Hallelujah! Praise Your holy name!
Written by "Susie" 7/12/99
Divine Design

O Abba Father, I thank You that faith in Jesus Christ, Your only Son, can present me faultless before Your throne. He presents me as inexpressibly pure, absolute righteous, and profoundly justified by His blood. Hallelujah! Glory be to His name. Father, I stand in absolute adoring faith in Your Son, my Lord Jesus, who became for me wisdom, righteousness and sanctification and redemption. I thank You that through His shed blood, I am saved from hell and total destruction. I thank You that I can plead His blood on all that I say or do. I will build my faith on him alone, letting His life be my example.
Lord as You lead me, I can look back and I can see the presence of an amazing design, Your guiding hand, as You led me from glory to glory to get me where I am today. Hallelujah! I give You praise and glory! I am discovering Your design on my life everywhere I go and those so-called random events were nothing less than Your appointed order.
Father, I pray that I will maintain a right relationship with You so that Your discernment can come through me continually for the purpose of blessing someone else. I pray that when I'm given the right to advise anyone, You will advise through me with the direct understanding of Your Holy Spirit. Father, I want to become so totally surrendered to You that I am not even aware of being used by you. Father, I pray I will reach that level where all awareness of Me and what You are doing through me is completely eliminated. My goal is to be consciously dependent on You for all things. Father, I pray that I will reach the lofty height where no one notices me personally. All I want noticed is Your power coming through me all the time.
O make me absolutely Yours, to only display Your glory, to live a life hidden with You in my everyday human condition. May I exhibit You in all that I say or do. Never let me forget that my capacity and capabilities in spiritual matters is measured by and based on Your promises to me. "But seek first the kingdom of God and His righteousness and all these things shall be added to you. (Matthew 6:33)
Father, I desire to hear You say to me, "Child, come up even higher." I pray that You will elevate me by Your grace into heavenly places, where I can find a vast plateau where I can move around with ease, called to a higher level of insight and understanding of where I am spiritually. I want my entire life to be consumed by totally surrendering to You, Lord Jesus. Lord Jesus I give myself to You as You gave yourself to Me, totally, unconditionally, and without reservation, to be totally consumed by you. I want to give you my utmost for Your highest¾my best for Your Glory. I realize I cannot bring this vision to fulfillment through my own efforts, but I must live under Your inspiration until it fulfills itself.
Father do not let me walk ahead of You, do not send me out into a storm until I let You lead out first. You plant me wherever You will, I only want to walk and live in the light of Your vision for me. I give You complete liberty of my life, set my words on fire for Your glory!
Father, Your greatest gift to me is my mind. I give that gift back to You; to devote my mind entirely to You, bringing every thought into captivity by being obedient to You. I confess that my mind will no longer be starved, but will be inexpressibly brighter. I will encourage myself to remember whom I belong to and who I serve and my affection for You will increase tenfold. Hallelujah! Your promises, O God is faithful and true. I give You praise and glory.
Thank You Father, for the tremendous treasures of nature and I realize that it is holy and sacred. I see You reaching out to me in every wind that blows every sunrise and sunset, every cloud in the sky, every flower that blooms and every leaf that fades. I thank You for those blessings, Lord. Lord Jesus I receive Your blessing of a bright and beautiful day, but also in the dark and glomming days as I look to the Light of Your glory.
I thank You for our intimate times together Lord; I never lack for Your understanding or compassion. I know I can always come into Your presence and pour out my heart to You without being perceived as overly emotional or pitiful. The outcome of allowing You to satisfy every area of my life is to its depths the strong calm balance that You give to me.
God speaks: Sweet Child when you walk in the Light, the same Spirit that fed the life of My Son will feed the life of your spirit. It is only when you are protected by My sacredness of the Holy Spirit that your spirit, soul and body can be preserved in pure uprightness until the coming of My Son¾no longer condemned in My sight. Allow your mind to meditate on these great massive truths.
Child are you willing to be identified with My son's death? Are you willing to sacrifice your life for His service? If so, its only the matter of loosening the bands that hold you back, be a living sacrifice, let Me guide you and use you for His kingdom. Let Me put you in the shadow of My hand; let Me put My visions for you into your mind, be still and listen, and wait upon Me with joy and confidence and continue to be grounded in Me. Am I not Almighty God…El Shaddai, the all Powerful God?
Look to Me child; narrow all your interest until your mind, heart, and body are focused on My Son. Do not let the images in other Christians become a hindrance to you, stay focused on My will, and My Son's example. All your difficulties, your trials, your worries about tomorrow will vanish when you look to My Son. Build your hope on Him. No matter how many things seem to be pressing in on you, be determined to push them aside and look to Him. "We all, with unveiled face, beholding as a mirror the glory of the Lord, are being transformed into the same image." (2 Corinthians 3:18) That's the greatest characteristic you can exhibit; your unveiled openness before Me and allow your life to become that mirror to others.
Live in the light of My love for you, because you can never be denied My wisdom or love. You cannot be separated from My presence. Recognize that I am the presence and power in your life and I have complete faith in what I have established for you to do. Let Me do a new thing in your life, let Me refine you, let Me give you the victory. I will fill you with My Holy Spirit so you can minister to others in My Son's name.
I am responsible for getting you where you are today-let Me help you into another chapter of your life; a new spiritual walk with Me. I love you as you are, You are My child and I am well pleased with your progress. My strength is made perfect in your weakness. I am pleased that you are pressing on and staying on the right path, and if you will just keep on keeping on I will continue to anoint you with My presence.
Remember I created you and I love you. I am changing you bit by bit, day by day so while doing so, enjoy yourself, and your life. Do not be discouraged when I show you area's in your life that need changing, because I am re-making you in My Son's image.
Fulfill your destiny and be all you can for My glory; use My gifts wisely to help others. You can do all things through Christ Jesus My Son. Always reject and hate your sins, but do not reject yourself, for I have created you in My image.
Learn all you can, but don't allow your education to become a point of pride, I do not use you because of your education, but because of your heart and love of My Son. Don't despise your weaknesses, because it keeps you dependent upon Me.
Do not be conformed to this world, fashioned after and adapted to its eternal superficial customs, but be transformed, changed by the renewal of your mind by its new ideals and its new attitude.
Change does not come from your humanism; it comes from Me, renewed by My Word. So read My Word, child and live by My Word. Enjoy where you are and on the way to where I am taking you. Always be ready, keep the oil burning in your lamp for I am coming soon.
I love you, sweet child. Shalom, be at peace
Written by Susie
11/13/99

View My Guestbook
Sign My Guestbook
Please sign my guestbook
Recommend to a friend