Salvation is freely bestowed by God's grace, purchased by Christ's blood, received by man's faith and evidenced by his good works. Faith is the root of salvation; endurance is the fruit.
Satan is a powerful liar! He keeps us in bondage of sin. One of his greatest lies is that we can fall from grace.
Ephesians 2:8-9- Saved by grace through faith, the believer is placed "in Christ" by the Holy Spirit. This becomes the believer's position, or sphere in which God see him.
A believer is a saint, reckoned so by God at the moment he is saved. "By grace...through faith; and that not of yourselves, it is the gift of God, not as a result of works, that no one should boast. " (Eh. 2:8-9 NASB)
The moment you as a lost sinner confessed faith in our Lord Jesus by believing the gospel you were saved! (1 Corinthians 15:3-4)
There is no where in the Bible that even suggests that God ever takes back the free gift of salvation from those whom HE gives it.
Security of a believer rest upon God's eternal purpose and sovereign grace. Gloriously, God chose you to be in Christ "before the foundation of the world" and "predestined us unto the adoption of children by Jesus Christ to Himself. (Ephesians 1:4-6)
When Jesus died on the Cross, He victoriously bore the entire believer's sins-past, present, and future. He took our (your) place in death. He died as our substitute. Through His atoning work all condemnation is removed (John 3:18), Romans 8:1) .
Christ's resurrection was the seal of the all-sufficiency of His death as a vicarious atonement for sin. It made possible God's eternal life (John 3:16; 10:28). Since this life is the life of the risen Christ (Col. 2:12; 3:1-4), it is as eternal as He is eternal. The very fact that God's gift is eternal life means that it is incapable of dissolution. Union with Christ by baptism with the Spirit places the believer in the sphere of life that is as unending as Christ Himself is unending.
We are secure through the Spirit regenerating work; we are secure through the Spirit baptizing work, we are secure through the Spirit's indwelling. *** You as a believer may quench the Spirit by disobedience; but, the Spirit can never be extinguished. (1 Thessalonians 5:19)
Scripture makes its appeal to the believer for a holy walk with God's will on the basis of the fact that the Spirit permanently indwells us and that His salvation is not forfeitable.
We are secure through the Spirit's sealing. (Ephesians 1:13-14;4:30)--2 Corinthians 1:22)) Since the sealing is an act of God, no creature, including Satan, demons, or man can break it. The purpose; the power; the love; the holiness; and the faithfulness of God back up the Father. It has been bestowed on the basis of the death, burial, resurrection and ascension of the Son. It is affected by God's outpoured gift of the Spirit.
We are secure through the Spirit's filling! Every believer is positionally filled with the Spirit the moment he is saved. God placed the believer and sees him "in Christ" which is the sphere of spiritual fullness when he is saved. (Colossians 2:9-10)
When God saves a sinner, the saving operation is wrought as a whole instantly and eternally. Salvation by its very nature promises eternal security for its recipients. Its God's work, not mans, and rests on the power and faithfulness of God. It is all of grace, totally by faith, and not of all, of works.
Sin, Satan, demons, and wicked men are powerless to destroy what Jesus Christ accomplished by His death and resurrection. You can rejoice in your security, confident that, "He which hath begun a good work in you, He will perform it until the day of Christ Jesus." (Philippians 1:6; John 6:37:15-16; Romans 8:29)
Satan and demons know what some of God's people do not know. Not one of the redeemed, blood washed, and saved believers shall ever be lost and fail to enter heaven. (Read John 10:27-29).
I mentioned in an earlier paragraph about grieving or quenching the Holy Spirit by disobedience and/or unforgiveness. I just want to make it clear that is not falling from grace....its just plain old grieving or quenching the Sprit within. Your prayers are hindered and come back to you void when you are in your sin of unforgiveness or if you quench the Holy Spirit and do not confess those sins.
EXAMPLE: My testimony
Christ died for me on Calvary for forgiveness of sins, past, present and future. Christ died for my sins in A.D. 33.
I was 12 years old when I confessed Him as Lord and Master. When I asked Jesus into my heart, that very moment, the Holy Spirit came and indwelt me. In asking Jesus to come into my heart, He forgave me all my sins! How many sins? ALL OF THEM! The sins I committed before and after my salvation. In order for God to have forgiven me, He also had to forgive me all future sin as well or He could not have accepted me in the first place! Remember, my future sins are as real and repugnant
to God as my past one were. Remember, God is omniscience.
When we sin, the Holy Spirit convicts us and we experience a bona fide conviction we then ask God to forgive us. (Corinthians 7:8-11). When you knowingly sin, it breaks fellowship with God, (you do not fall from grace) so therefore you must confess your sins immediately!)
First: you must agree with God it is Sin...Confess it and be honest with God. "Lord I have sinned, I tried to play God and take my life, I felt I was a nobody, a failure, worthless, and the family would be better off without me. Lord, forgive me, for Your Word says, "I'm precious and beautiful in Your sight." You never left me, I left You.
Second: God says, He has forgiven all my sins, including attempted suicide, so I look to the Cross of Jesus and remind myself of His sacrifice for me, a sinner.
Third: Out of appreciation for such grace in forgiveness, I accept it gratefully, turn from my sin, and begin to focus consciously upon my Lord Jesus again, drawing upon the indwelling Holy Spirit who alone can empower me to not sin.
I cannot praise Him enough for His mercy and grace and His forgiveness. The more you learn to forgive the easier it gets.
You get on your knees and cry, "Abba Father, I'm a sinner saved by grace and the shed blood of Jesus, forgive me Lord! Name your sins, one by one, and then forsake them.
Confession is good for the soul, as it delivers you from the bondage Satan has trapped you in. Forgive those who have hurt you, then give your burdens to the Lord. And lay them at the feet of Jesus, which is the very reason He died for us. Hallelujah!
Be prepared for a battle. As you have been living the way the devil (the Liar) wanted you to. He will come at you with a double-barreled shotgun. You will need to put on the whole armor of God which is His Word and prayer.
You must! Must read His Word and stay prayed up. Get a Living Bible if you cannot understand the King James.
What helped me the most was the Believer's Bible Commentary. Also, before reading His Word, invite the Lord and the Holy Spirit to come sit beside you, ask Him to reveal His word and to help you apply His word to your life. If you will live and obey our Lord, you will receive that peace which surpasses all understanding. If you are a Christian that is back-slidden, then rededicate your life to the Lord and start working for Him, find a good Bible believing Church and join it!
Written by "Susie" 10/24/98
Reference material: What Demons Can Do to Saints
Amazing Grace, by Hal Lindsey Holy Bible (KGV)
For a more detailed Bible reference of Eternal Security
paper on Eternal Security that covers most of the New Testiment.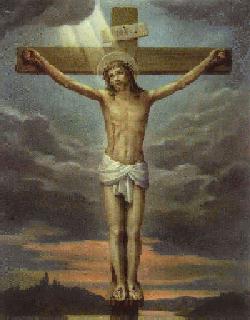 "My God, My God, Why Have You Forsaken Me?"
4/11/98
As I read and meditated on these words, spoken by Jesus,
hanging on that ole rugged cross, I came to realize that we
Christians, and even non-believers, have never felt the
absence of Jehovah God, but for three and one half hours,
God the Father took His eyes off our Lord Jesus.
Jesus died on that cross so that we, lowly sinners, would
never experience that kind of death. Before our Lord hung on the Ole Cross He endured the beatings of thirty-nine stripes with the cat o-tails. We spit upon Him; we put a crown of thorns upon His head and mocked Him. He endured that, but, to have His Father take His eyes off of Him for 3 ½ hours was almost unbearable, so the saying, "My God, My God, why have You forsaken Me?" O, the love our Master had for me (us). All He asked of us is to confess Him as Lord, ask forgiveness of our sins and believe on Him. He gave His life for me (us), so we would never experience God's eyes taken off of us for not even a second. Hallelujah!
Jesus was sinless, but He loved us so much he bore the
burden of guilt for all our sins. While taking the full load
of all our sins, the suffering Savior actually was,
literally and completely forsaken by God. The eternal Son
who had always been the object of His Father's delight was
now abandoned. The Perfect Man who unfailingly did the will of God experienced the terrible desolation of being cut off from God.
Why? Scripture gives the answer. First of all, God is Holy,
Righteous and Just, and this means that He must punish sin wherever He finds it. To wink at sin, or to overlook it is
impossible for God. Although the Lord Jesus had no sins of
His own, He took our sins upon Himself. He voluntarily
assumed responsibility to pay the penalty of all our
iniquities. The debt we owed was charged to His account, and He willingly became surety for it all.
What can God do? All His righteous attributes demand that
sin be punished. Yet, here He looks down and sees His only
begotten Son becoming the scapegoat for others. The Son of His love has become our sin-bearer. Jehovah God, cannot bear to look at sin. He did the only thing He could do - He deliberately unleashed all the fury of His righteous wrath on His own beloved Son. The fierce torrent of divine
judgment broke upon the innocent Victim. For our sakes,
Christ was forsaken by GOD so that we might never be
forsaken. HE bore it all for us, for me. He was forsaken for
me, for you. When I hear Him cry, "Why are You so far from
helping Me, and from the words of My groaning?" I know that it was for me and it was for my sake that the heavens were silent to Him by day and by night.
The love of God demanded that sin's wages be paid. God's
love provided what His holiness demanded. He sent His Son to die as a substitutionary sacrifice. Not only was He
forsaken by God, but He was despised and rejected by the
people. To the creatures whom His hands has made, Christ was hardly even a man --just a worm. He knew the bitterness of scorn and rejection by the very people He had come to save. Even as He hung on the Cross, the watching people ridiculed and mocked the Eternal Lover of their souls!
They sang a taunt song in which they mocked His apparent
helplessness and seeming fertility of His trust in God. "He
trusted in the Lord, let Him rescue Him; let Him deliver
Him, since He delights in Him?" This is exactly what the
jeering crowd said at the cross. (Matt. 27:39,43)
But, the Son of Man turns away from man to God, for it was
God, who brought Him forth from the virgin's womb, it was
God who preserved Him during the fragile day's of His
infancy, it was God who sustained Him through boyhood to
manhood. We too, can turn to God, to sustain us if we only
believe in our Lord Jesus Christ, and put our faith and trust in Him.
Christ's physical sufferings were excruciating beyond
description. There was His exhaustion; He was poured out
like water. There was the agony of bone dislocation. By
hanging on the cross; all His bones were out of joint. There
was violent disorder of His internal organs; His heart, for
instance, was melted like wax within His breast. There was His unendurable weakness; His strength was dried up like a fragment of pottery. There was His unremitting thirst; His tongue was clinging to His jaws.
The sufferings of the Lord Jesus are now forever past. His
redeeming work has been finished. The cross has been
exchanged for the crown! Do you have Your crown? Have you asked Jesus to come live in Your heart? If not do it today don't delay; don't crucify our Lord Jesus again, and again by denying Him. Just as He died on that cross, He was buried in a borrowed grave to arise again of the third day.
Hallelujah! Our Lord is Alive! Reigning at the right hand of
the Father. As our advocate, He intercedes to the Father on
our behalf.
Come, come ask Him today to be Your Lord, your Master.
Remember, He died for you, so you would not experience
spiritual death. We all die, but not all enter into the
gates of heaven. Only through the shed blood of Jesus can we enter into everlasting life.
Remember the love of Jesus, who died for you and me on
Calvary, how he suffered for you and for me. Don't let Him
die in vain-receive Him, let Him set you free today.
Written by VSD-G
1998


Grace

Grace is unmerited favor-extending special favor to someone who doesn't deserve it, who hasn't earned it, and can never repay it.
Grace is positive and unconditional acceptance in spite
of the other person. Grace is a demonstration of love that is underserved, unearned and unrepayable.
Grace isn't picky. Grace doesn't look for things that have
been done, that deserve love.
Grace operates apart from the response or the ability of
the individual. Grace is one-sided. Grace is God giving Himself in full acceptance to someone who does not deserve it and can never earn it and will never be able to repay.
As sinners we deserved nothing, had nothing, and could offer God nothing. We were hiding when He found us. Can you look back to a time when you were addicted to drugs, when you were involved in a futile life, moving from one guilt experience to another, spending one confusing night after night, In one sexual encounter after another, wondering where it would lead. You offered nothing to God. You had nothing that you could give to Him, not one good work that You could say genuinely revealed righteousness. And yet the King set His heart on You. Isn't that great? No-better than that-it's grace. That's what God does for us, demonstrating love and forgiveness we can't earn, don't deserve and will never be able to repay. That's Grace.
There's something freeing about grace. It takes away all of the demands and puts all the response on God's shoulders as He comes to us and says. "Your Mine". I take you just as you are, crutches, hang-ups and liabilities and all.

God will take us from where we are to bring us to where He is--to a place of fellowship with Him. He will restore us to what we once had in Adam.
You can express that you are what you are today, enjoying the pleasures of your position because of the Kings (Jesus) grace and nothing else.
Our continual problem with sin is a continual reminder of His grace. Every time we claim the verse, "If we confess our sins, He is faithful and just to forgive us and to cleanse us" we remind ourselves that grace is available.
All through eternity the Lord will say, "you are mine, you are important to Me as all my other sons and daughters.
It will take eternity for us to adequately express what this truth means to us-that He (Jesus) chose us in our sinful and rebellious condition and in grace took us from a barren place and gave us a place at His table.
And in love, allowed His tablecloth of grace to cover our sins.
Can you honestly thank the Father for finding you when you weren't looking…for loving you when you were not worthy….for making you His when you did not deserve it.
If not, do so today-ask Him into your heart…He's calling you-today- Praise God for His amazing grace.
Taken from," David" , by Chuck Swindoll