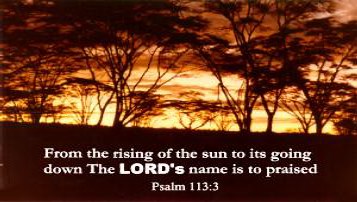 Glorify You, O Lord
3/22/98
Lord, I will lift up my voice and sing of Your majesty, and glorify You, O Lord in the dawning light. O Lord, You are my God and I will exalt You. I will praise Your name, for You have done wonderful things. You are my strength, my refuge from the storms of life and an ever present blessing to my soul.
Lord, You are God, who made heaven and earth and the sea, and all that is in them, I pray You anoint me with all boldness to speak Your words and by stretching out my hands to heal, and that signs and wonders may be done through the mighty name of Your Holy Servant Jesus. May I always exalt my Lord Jesus, giving Him the glory, power and dominion always. Help me, O Lord, to give myself continually to You in prayer and to minister in faith and power of the Holy Spirit. Amen
Written by "Susie"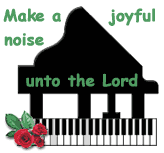 Lord God Jehovah
4/11/99
"LORD God of heaven, O great and awesome God. You are the God who keeps Your covenants and mercy with those that love You and observe Your commandments, please let Your ear be attentive and Your eyes open, that You may hear the prayer of Your servant which I pray before You now."
I come before You a sinner, washed in the blood of the LAMB. Hallelujah! Thank You for my salvation, and for Your love. I praise and glorify Your Holy Name, Jehovah God, the God who understands and supplies all our needs. I praise You Elohim for Your infinite power; You are absolute righteousness and You are my omnipotent Creator. How awesome are Your works! All the earth shall worship You, and sing praises to Your Name.
Lord God Jehovah, I pray for the peace of Jerusalem. I pray for Your special people Israel, may they prosper that love You. Father, as my omnipotent Creator, You know my every thought before I think it, my every word before I say it so therefore Father, I confess my love and adoration for You and my Lord Jesus Christ. I pray for a fresh anointing of Thy Holy Spirit daily. Help me, O Lord, to do Thy will in my life, not my will. Mold me and remake me into the image of Your Son, Jesus. Create in me a clean heart, O Lord and may my hand forever be held tightly by Your hand.
Written by "Susie"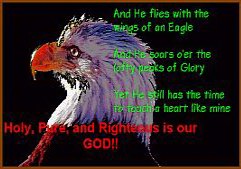 Praise To Your Glorious Name
10/23/99

Abba Father, who art in heaven, hallowed be Thy name. I come to Your Throne room to give You praise and thanksgiving. I thank you for this day, as it is the day You made, and I will rejoice in it and be glad. Hallelujah! To the Lamb of God. How great is Your goodness to those who publicly declare their trust in You, to them that reverence You. All praise to You for Your wonderful kindness; for the favor that You have poured out upon me and Your saints, because we belong to Your dearly loved Son.
You, dear Lord are good to everyone and Your compassion is intertwined with everything You do. All living things shall thank You, Lord and they will bless Your holy name. Hallelujah! "Oh, that...men would praise the Lord for His loving kindness, and for all of His wonderful deeds! (Psalms 107:8)
Thanks be to You, O Lord, as You always lead us to triumph in Christ. Father, I want to belong so completely to the Victor, that all I do is always His victory, as I am more than a conqueror through Him. Your word says, "We are to God the fragrance of Christ..." (2 Corinthians 2:15) I pray I will always exuberant the sweet aroma of Jesus wherever I go.
Father, I am willing to let You do in me everything that has been made possible through the atonement of the Cross-of Christ. I am willing to let Jesus become sanctification to me and let His life be exhibited in my human flesh. I pray that I will always be obedient in service and in prayer.
My joy comes in absolute self-surrender and self-sacrifice to You, Father. I delight to do Your will, O my God. I pray that my joy might continue fulfilling itself until it becomes the same joy as my Lord had for You. My Father, as I allow my Lord Jesus to introduce His joy to me, I pray that I may stand insight relationship with You, and finding my joy there; then our of me will flow rivers of living water. Hallelujah!
Father, I place every detail of my life under Your scrutiny, as I want to walk in holiness before You. May my life always exhibit Your love, Your joy, Your sweetness and Your peace. Lord Jesus, identify me with Your death until I know that sin is dead in me. Search me until I know what level and nature of sin is in my life--to see those very things that struggle against Your Spirit within me. Father, I want to enter into that glorious privilege of being crucified with Your Son until all that remains in my flesh and blood is His life. O Holy Spirit invade all of me, take charge of my life as I strive to walk in the light of holiness of my Lord Jesus.
Father, in my prayer time You respond to my prayer:
"Child cast all your burdens upon Me; you have been trying to bear them all by yourself, needlessly. You need to deliberately place each of them on My shoulders. Commit to me whatever burdens you are carrying, don't just put it aside, but put in on Me and place yourself there also for My yoke is easy and My burden is light.
Child your joy comes from Me, for I am your strength and your light. Burn your bridges behind you and stand committed to Me by an act of your own will. You must build your faith not on fading lights, but on the Light that never fails.
Sweet child, salvation and sanctification are the works of My Father and Your Father's sovereign grace, and as His disciple, you must be totally yielded to Him. One life totally devoted to Me is of more value than one hundred lives, which have been simply awakened by My Spirit. Let Me bring you up to My standard of life through My grace and then you become responsible for reproducing the same standards in others as My disciple.
Child, if you will remain true to Me, then I will lead you directly through every barrier and right into the inner chamber of knowledge of Myself. You must always be willing to come to the point of giving up your own conviction and traditional beliefs and obey Me and I will purify your faith.
Child, prepare yourself to let Me take you into total oneness with Myself. Pay no attention to what you call great things of life, just surrender totally and let go and let Me give your life to you as a prize, "I will give your life to you as a prize in all places, wherever you go." (Jeremiah 45:5) Abandon yourself to Me, and once you do get to the point of total surrender, you will be the most surprised and delighted person on earth.
Child, continue praying always with all prayer and supplication in the Spirit for those whom I bring to mind. Enter into My courts with boldness being virtuous in your supplications.
Keep My commandments, and entrust yourself into My hands, maintaining your intimate relationship with Me through the perseverance of faith built on the fact that I have a holy love for you. Even though you cannot see Me right now and cannot understand what I am doing, know that I am eternal love and you can face anything through Me without wavering. If you will take this view of Me, life will become a great romance glorious opportunity of seeing wonderful things take place in your life. Remember child, I chose you, keep these words as a wonderful reminder of My love for you.
Shalom child, until we come together again, Your Father.
Written by "Susie"

View My Guestbook
Sign My Guestbook
Sign my GuestBook

.