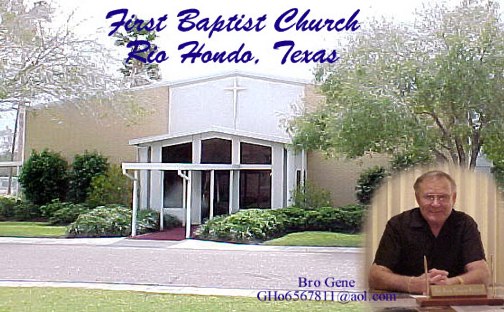 This is the First Baptist Church of Rio Hondo
My pastor is Rev. Gene Horton better known as Bro. Gene or 'Bubba Gene"
If you do not have a church family or a place to worship you are very welcome to come visit with us and its there you will find a very loving and warm church family...just the one you have been looking for.
Morning Worship Service at 10:50 a.m.
Sunday School at 9:45 a.m.
Television Service Channel 5 KRGV at 9:00 a.m.
Evening Worship Service 6:30 in Chapel
We have a modern nursery that is opened across the street in the Chapel.
( To visit Vance's Website click Picture)
We also have a Wednesday Evening Prayer Service in the
Chapel at 7:00 p.m.
Monday night at 7:00 p.m. is the Men's Prayer Meeting
Phone Number: 956-748-2251
A Prayer for My Church Family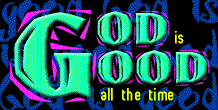 Spirit of Wisdom and Revelation
Father, I pray for my church family today that You would give them the Spirit of Wisdom and revelation, so that they may know You better. I pray that the eyes of their heart may be enlightened in order that they may know the hope to which You have called them, the riches of Your glorious inheritance in the saints and Your incomparably great power for those who believe.
I pray that wisdom will enter into their hearts and knowledge will be pleasant to their souls. I pray that discretion will protect them, understanding will guard them and that wisdom will save them from the ways of wicked men.
I pray that they will trust in You with all their heart and lean not on their own understanding; but in all ways acknowledge You, You will make their paths straight. I pray that they will not be carnally minded, which is death, but may they be spiritually minded, which is life and peace.
I pray that You would show them Your ways, and teach them Your paths; guide them in Your truth and teach them You are God.
Father, I pray that You would enable them to obey Your command to love You with all their heart and with all their soul and with all their strength. I pray that You, the God of Hope, will fill them with all joy and peace in trusting You, that they may abound in hope by the power of the Holy Spirit.
Father, I pray that You will love them through me with agape love…love that is patient, love that is kind. Love that does not envy, does not boast, and is not proud. Love that is not rude, and is not self-seeking, love that is not easily angered, and keeps not record of wrongs. Love that always protects, always trusts, always hopes, and always perseveres. Father, Your love through me for them will never fail.
Father, I pray for them to hold to Your teachings and truly be one of Your disciples. Then they will know the truth and the truth will set them free.
Father, let the peace of Christ rule in their hearts, since as members of one body we were called to peace. And help them be thankful. Let the word of Christ dwell in them richly. Let them sing psalms, hymns, and spiritual songs with gratitude in their hearts to You.
I pray that they will know Your name and will trust in You, for You, Lord, have never forsaken those who seek You. Keep them as the apple of Your eye. Let integrity and uprightness protect them, because our hope is in You.
Father I pray that they will forget what is behind and strain toward what is ahead, that they will press on toward the goal to win the prize for which You have called them heavenward toward Christ Jesus.
Now to You, Father, who is able to do immeasurably more that I can ask or could imagine for my Church family…to You be glory…forever and ever. Amen
Written by VSD-G 7/29/00
Doctrinal Statement of the First Baptist Church



1. We believe in the plenary, Verbal inspiration of the original writings of the 66 Books of the Bible.


2. We believe in one God, eternally existing in three persons, The Father, The Son and The Holy Spirit.

3. We believe that the Lord Jesus Christ is the eternal Son of God, was conceived by the Holy Spirit and born of the Virgin Mary.

4. We believe that Jesus Christ accomplished our complete redemption through His death on the cross and we believe in His literal, physical resurrection from the dead.

5. We believe that the Holy Spirit is a Divine Person, a supernatural agent in regeneration and sanctification, indwelling permanently in every believer, sealing them unto the day of redemption; and, that He bestows a Spiritual gift upon each believer, and that it is the duty of all believer's to be filled and con trolled by the Holy Spirit.

6. We believe that man was created in the image and likeness of god but through Adam's sin, is utterly helpless to remedy his lost condition apart from the grace of God.

7. We believe that salvation is the gift of God brought to sinful man by grace, and received solely by personal faith in Jesus Christ.

8. We believe that the universal Church which is the body and bride of Christ is a spiritual organization made up of all "born again" persons. We also believe that the establishment and continuance of the local church is clearly taught and defined in the New Testament Scriptures.

9. We believe that the Christian life consists of the abiding union with the Living Christ and by living in the power of the indwelling Holy Spirit, whereby the fruit of the Spirit is produced in the life.

10. We believe that all Christians should live in such a manner as not to bring reproach upon their Savior and Lord. We believe that separation from all apostasy, all worldly and sinful pleasures, practices and associations, is commanded of God.

11. We believe that it is the obligation of a Christian to proclaim the Gospel to all mankind.

12. We believe that Satan is a personal being. He is the author of sin and is the open and decreed enemy of God and man.

13. We believe that the next great event in the fulfillment of prophesy will be the eminent, personal, pre-tribulation return of the Lord in the air to receive to Himself His own who are alive and remain unto His coming and also all who have died in Christ, and that this is the blessed hope.

14. We believe that the souls of Christians at death are absent from the body and present with the Lord where they are in conscious bliss.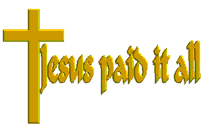 View My Guestbook
Sign My Guestbook
Please sign my guest book
Recommend