"The Way of the Cross leads to god"


He carried the cross to Calvary,

Carried its burden for you and me,

There on the cross He was crucified

And because He suffered and bled and died,

We know that whatever "OUR CROSS" may be.

It leads to GOD and ETERNITY...

For who can hope for a "crown of stars"

Unless it is earned with suffering and scars,

For how could we face the living Lord

And rightfully claim His promised reward

If we have not carried our cross of care

And tasted the cup of bitter despair...

Let those who yearn for the pleasures of life,

And long to escape all suffering and strife,

Rush recklessly on to an "empty goal"

With never a thought of the spirit and soul...

But if you are searching to find the way

To life everlasting and eternal day-

With Faith in your heart take the path He trod,

for the WAY OF THE CROSS is THE WAY TO GOD.

Helen Stiner Rice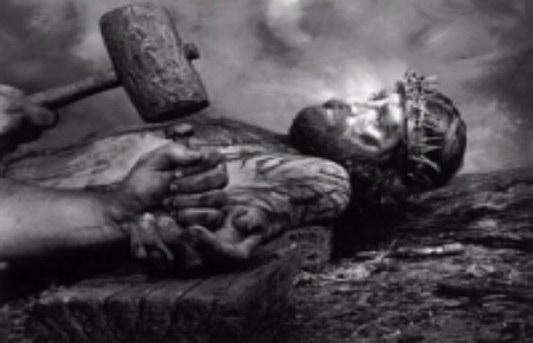 He suffered and died just for you and me!

Pray On

By Carrol Prestidge

Thanks Carrol for sharing your poems!

The word came down to children in school

They must give up their prayer
This was the work of Satan
Disguised as Ms O'Hare
A touch of sadness entered
The hearts of everyone that day
When Madelyn told our children
They could no longer pray
She said in groups we could not talk
Even to our own Lord
So severe the penalties were
Our school could not afford
Satan had a victory that day
That made him very proud
For in our school our students were told
They could not pray aloud
This takes me back in history
To day of World War Two
When Hitler tried to take away
The prayer of each and every Jew
But there is a happy ending to this story
It is my joy to tell
Ms.O'Hair will forever warm her feet
With Satan in burning hell.






Heavens Gate

By Carrol Prestidge



"Pardon me, Mister Pleeceman

Can you show me the way
To the place where my Mom lives
It's called "Heaven", they say.
I need her to hold me
At least for a while
And show her my dimples
That turn on when I smile
My Dad's in your prison
Behind gray walls and bars
While Mom's up in Heaven
Among angels and stars
So please Mister Pleeceman
Can you set my Dad free
Or open Heaven's Gates
And send my mommie to me."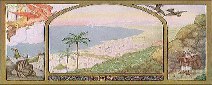 Flowers
By Carrol Prestidge


If flower petals could be read like musical notes
What a beautiful song to sing
And their fragrance drifts forth like an angel voice
Sing hymns to God our King

I watch a humming bird with bill in bud
And quietly lend an ear
Is she extracting nectar or music
Is that a humming bud song I hear

With an air of excitement
I plant seeds into the ground
And pray for an Eden-like garden
With a musical sound.



" The Feather"

The feather was of many colors,

that he brought to me last night...

The feather of a squawking beautiful parrot.

He beamed as he gave that feather

to me, with love and laughter in his eyes.

Just a simple gift of the heart, that

feather was to be, never knowing what

it meant to me.

It was a gift of thought, you see;

he was thinking of me.

Just a simple little parrots feather,

so pretty as could be, with its many colors,

he brought to me last night.

It brought me delight to see the love

and laughter in his eyes.

A simple little feather, the Lord used

to let me see, his love and wonder for me.

Thank You, my Father, for the love

and laughter of my husband, who gave

me that simple little feather so bright

with many colors, for me to see.

You see, he was thinking of me, with

love and laughter in his eyes.

"Susie" 7/14/01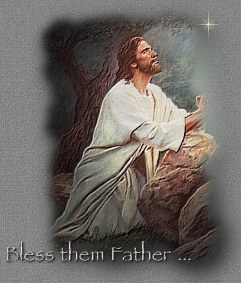 Pray, Sweet Child, Pray

O daughter dear, pray, pray for my children.
Pray for my children, sweet daughter.
Pray for those who are destitute, pray for
those who are abused and forgotten, pray sweet daughter, pray.
O daughter dear, pray, pray for my children, please.
Pray for those who are abandoned and alone,
pray sweet child, pray ~
Pray for the un-churched and the lost.
Pray for those who have diseases, for those with
aids ~ O pray sweet child pray.
Pray for the oppressed and the demon possessed.
Pray sweet child, pray.
O Daddy Dear, I hear Your calling me today,
to pray for Your children who are so dear.
O Daddy, hear my prayer today for Your children.
The ones who are diseased ~ O Father, my Father heal those
sweet children today.
Daddy, Daddy, I'm praying for Your children who are abused ~
I pray Daddy Dear that You rock them in
Your heavenly rocking chair ~
Hold them ever so tight, and ever so near,
and heal them today, I pray.
Daddy, Daddy, I am praying, I am praying for~
Your children, Dear Daddy ~
I'm praying for Your children, who are lost,
and un-churched; save them my Father, free them
from their sins, I pray.
Daddy, Daddy I praying for Your children who are
oppressed and demon possessed.
O, Daddy Dear, bind the evil one from
their abodes…rebuke Satan who has that
unholy hold.
Daddy, Daddy, give them the freedom
that only Your Son can atone
by His precious shed blood.
"Suffer the little children, You said, unto me",
O sweet daughter pray for My little children today,
tell them that they can come near to Me.
Daddy, Daddy I'm praying for Your children today.
O, Daddy, Daddy I'm praying, do You not hear ~
O Daddy, tell them of Your love and that You will be there,
that You will never leave them, nor forsake them as well.
Whisper. Whisper, Dear Daddy to each of Your children so dear.
"I love you, sweet children, Your Daddy is here."
Written by "Susie" 7/4/01

`
Sinking Low

I was sinking deep in sin, where the brightness of
God could not come in.

Sinking so low in that pit of depression, bitterness and hell.
Ole Satan had his hold on me, for suicidal thoughts of death
did abide in me-Oh the pain, the heartache of the
consequence of sins buried deep within.
But wait! What's that I hear?
A whispering, I did hear, my daughter come near.
Reach up and take My hand, reach up to the light; out of your sin.
I am the Light, the Truth, and the Way,
wear my yoke within you today.
Satan's yoke is hard to bear, he keep's you in despair.
My yoke, My darling dear makes your cross-easier to bear.
O take My hand and let Me put your feet on
solid rock, that ROCK being Me-
For I am the Truth, the Light and the Way.
Stand by Me, the Living Way, the One,
who took your sins away-
Written by Susie 7/4/01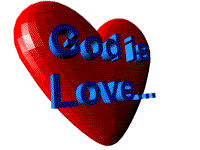 Love Lifted Me

O, that Your love will lift me…
That Your hand will be upon me
filling me with Your liquid love-
Yes, Your love lifts me when nothing
else could help me-
I will lean on You, my Lord,
I will abide in Your love within-
Your love alone sustains me
thru all my stormy gales-
It's Your love that gets me thru,
safe and secure, yes, love lifted me-
In the shadow of
Your loving wings it's there I find
strength and liberty.
If that isn't love? What is?
"Susie"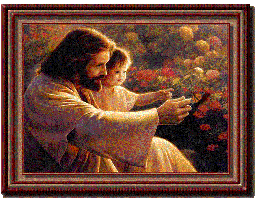 "I'm A Child of a King"
O, what a wonderful day that will be, for Thy face
I will see, when I hear the Father calling,
"Come up hither My child, come hither to be with Me.
O what glory, what majesty, when we hear that trumpet
sound, and the voice of the Arc Angel does sound
"Come with me for we go to the Father, you see,
to be with Him in glory, for an eternity.
Amazing grace, how sweet the sound, when Jesus steps out
from heaven above and lays His hands on me and says,
"well done My child, well done My child" and His glory I will see!
How marvelous, how wonderful in glory that will be,
to see our loved ones who've gone ahead of me.
O what a glorious day that will be.
O how majestic the sounds of heaven that we will hear
and to bow the knee before our King.
Oh to know we will always be near, to proclaim glory! Hallelujah!
Praise's to my King. Holy, holy, holy forever we will sing.
Written by Susie



How Are We Doing Today

How are we doing today, Dear Lord?
What sins have we not confessed; those sins
that brings tears of distress.
Oh, my Father, forgive I pray those un-confessed sins today.
I confess my wrongs ~ the pain I've caused ~
the words that hurt a loved one this day ~
Forgive, O Father, for getting exasperated and angry
at the one in the car ahead of me~
The oath I said under my breath~
O Lord please forgive me I pray.
Forgive, my Father for not taking the time
to be with You today ~
Forgive the quick prayer-on-a-wing~
as I ran out of my room today.
Forgive, my Father, for not taking the time
to listen to a co-worker this noon.
O, what need, did I fail to respond too?
We rush and we run with ne're a care
never to even ask what Your will for me, was to be.
We push you aside and say, later Lord, I'm
much to busy right now to listen to Thee.
O forgive, Lord, I pray.
When I finally listen, I hear, with tears in Your voice ~
`My child, my child, slow down and listen to Me today."
Listen, my child to the birds that sing just
outside your window sill,
and don't forget to smell the dew stained rose's
that I created just for you.
And look at that rainbow in the sky, after the
refreshing rains I give.
Slow down, slow down my child and listen to
Your Father today!
"Susie" 7/6/01

CALLING
Jesus is calling, do you not hear?
Calling you today, because He
finds you so dear to His heart.
Open your ears to hear, your eyes
to see the calling on your life.
Jesus is calling you today.
Just receive Him into your heart.
Today Jesus is calling you; do not
delay, cry out to Him today.
Yes, Lord Jesus, I'm receiving
You, come into my heart to stay.
Wash me, cleanse me,
I hear You calling me today.
"Susie"
6/22/01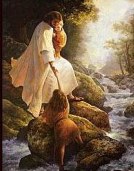 This poem is written by my granddaughter Amanda
God's Always There

Now I'm sitting on the side
of the road
in the middle of nowhere.
I don't know why I am here
My angel is gone and I don't
know where.
But I know God is always here.
Because He stands by my side
day and night,
He always watches over me.
I know God is always there.
Some may say I am crazy,
But God knows who I am,
because I am his little girl
So I know He will always be
There with me.
Amanda Sue Chapman
6/24/01

Recommend to a friend

View My Guestbook
Sign My Guestbook
Sign My GuestBook