Psalms 23

Shepherd of the High Place
O great Shepherd, make my feet like hinds' feet. I am willing to go with You up to the mountain of High Places. Change my name O God-Put that thorn of love in my heart. Draw me- I will run to Thee, You are my hearts one desire; bring me to Thy royal house to dwell there in Thy presence, O my King. Perfect me in Your love, let me rise up and go away with Thee-I have found You, whom I loveth so, I have held You and now I can never let You go. You are the Rose of Sharon, the Lilly of the Valley, the Bright and Morning Star. Oh come. Oh come Sweet Shepherd and take my hand to walk up to the High Place together with Thee.
Oh lift me up to the High Place of love so I may receive the power to pour myself down in utter abandonment of self-giving. Uphold me by Your hand, support me by Your strength and send Your guide to lead me where You want me to go. I will trust You and do whatever you want.
As I look upon the face of my Great Shepherd, I realize I cannot doubt you, nor can I turn away from following You. In the entire world I have no one but You. Help me to follow You even though it seems impossible. Help me to trust You as much as I long to love You.
You, O Lord, who is so strong and yet so gentle, be not less faithful and gracious to me, weak and cowardly though I am; You delight in delivering me from all my fears and take them to the High Places. I will go with You, lead the way my Shepherd. Your Peace and Your Joy will be fulfilled in me as I follow You.
O deliver me from self-pride, O God. Do not let him take me by the hand and lead me astray. Come to me, my Shepherd! Come quickly, rescue me, I am reaching out my hands to You, O God. Pride had trodden on my feet, O God. Deliver me, My Shepherd- I repent and ask Your forgiveness my King!
I love You enough, Great Shepherd to accept the postponement and the apparent contradiction of Your promises, and I will go down into the desert wilderness. I will go with You, for You know I do love You and You have the right to choose for me anything You please. I humble myself before You, my King-I give You my rebellious will, I surrender all to You Lord Jesus. I willingly lean on You.
O Sweet Shepherd, take me by the way of Egypt so I too may be thrashed and grounded into the finest powder to become bread corn for the use of others. Bruise and break me to be used of Thee. Like clay on the potter's wheel, mold me and reshape me, Master Potter, do with me, as You will-I want to be clay in the hand of the Master Potter.
Refine me, O God, as gold being smelted and where the dross is removed in the furnace. "O thou afflicted tossed with tempest and not comforted, behold, I will lay dry stones with fair colors and lay thy foundation with sapphires. I will make thy windows of agates, and thy gates of carbuncles, all thy borders of pleasant stones." (Is. 54:11) Turn Your hand upon my heart, purge away the dross, and refine me in Your fire and remake me at Your Cross until I can shout my name is Acceptance with Joy!
O, cross the desert sands as swiftly as You can my Shepherd, I need Thee! "When He hath tried me, I shall come forth as gold. Weeping may endure for a night, but joy cometh in the morning." O Lord, I thank You for leading me through the wilderness. I was so empty and dry, but waiting thy time to be filled to the brim with Your flood tide of Love.
Come to my deliverance and hurry, O my Lord-before Resentment, Bitterness, and Self-Pity manages to take complete control-Rescue me, my Shepherd! I give up and rebuke the weeds of impatience in my heart. Forgive me, O Lord for thinking that You were allowing me to follow the path of impatience and that You had forgotten Your promise to me. I tell You now with all my heart that You are my Shepherd whose voice I love to hear and obey. I will wait patiently until You give me my hearts desire.
Lord Jesus, I lay down my whole will to Thee as a burnt offering. I delight to do Thy will, O God. "And now shall mine head be lifted up above mine enemies round about; therefore I will sing praises unto the Lord; Yea I will offer the sacrifice of joy and will praise the Name of the Lord." (Ps 27:6)
Behold, Lord Jesus, here I am, Thy handmaiden, all that is in my heart is Yours. Welcome, Great Shepherd, a thousand times welcome, all that I have is Yours to do as You please.
O Lord, rescue me again for I am oppressed; help me, my fears have taken hold upon me and I am ashamed to look up. Your word says, "You have a very tender compassion for those who are afraid." Sweet Jesus, the way You have chosen for me looks so dreadful, so impossible. I turn giddy and faint whenever I look at it. Forgive me Lord, You told me You would make my feet as hind's feet and set me upon my High Places." You have brought me on purpose to this back side of the dessert, where the mountains are steep and where there are no paths but the tracks of the deer and of the mountain goats to follow and Your promises will be fulfilled. Now I shall see what You will do. You will turn my weakness into strength and my fear into faith, and that which has been marred into perfection. Your special work is transforming me into an extraordinary vessel.
Lord, I believe You can change me into a mountain goat and get me to the top of the mountain! Whatever it takes, Master, have Your will and Your way in me. Nothing else matters. I lay my will down before You, my Shepherd as I climb towards the mountain of Love. "Whom have I in heaven but Thee, and there is none upon earth that I desire but Thee." O Master Shepherd, I want to go higher with Thee. Lead me, O God, to the next stage of my way to the High Place. Even if You lead me through the Valley of the Shadow of Death itself; I need not fear, for Your rod and Your staff will comfort me. "Thou shalt not be afraid for the terror by night; nor for the arrow that flieth by day, nor for the pestilence that walketh in darkness; nor for the destruction that wasteth at noonday. Though a thousand fall at thy side, and ten thousand at thy right hand, it shall not come nigh thee…For I will cover thee with my feathers and undo my wings shalt thou trust." (Ps 91:4-7)
I put my trust in You, my Lord. I love You deeply and I trust You completely and I long to trust You more.
Lord Jesus, My Shepherd! Help me! Where are You? Don't leave me! You may do anything, Master. You may ask anything, only don't let me leave You. If you must deceive me, my Lord about the promises and the hind's feet and the new name, indeed You may; only do not let me leave You. Do not let anyone or anything turn me back to that old self. Your word says, no one, not even my shrinking heart, can pluck me out of Your hand. "This delay is not unto death, but for the glory of God." O remember Your promise, my Lord, "Thine ears shall hear a word behind me saying, "This is the way, walk ye in it, when you turn to the right hand or the left."
Yes, Lord, I will bear this too, as I go down the path of forgiveness into the Valley of Loss. If that is Your choice for me, I will go where You want me to go. "Entreat me not to leave You, or to return from following after you; for where You go, I will go; Your people will be my people; and your God my God. And where you die, I will die, and there will I be buried. The Lord do so to me and more is ought but death parts you and me. (Ruth 1:16-17)
With my whole will, O God, I want to satisfy You and please You. My passion and desire is to be near You, my Shepherd. All I want in life is to follow You forever. Nothing of this world can fill the void in my life but My Shepherd. Nothing else matters I only want to love You and do Your will for my life.
I cast myself down in total abandonment to Thee, my Shepherd. I want that joy unspeakable, and full of glory in the abandonment of Your loving arms. I have only one desire, to go down and down and down and give myself with no reserve or holding back of any kind.
O my King, My Master Shepherd, I want so desperately for a piece of burning coal from Your alter to touch my lips and cleanse me of all iniquity. "Lo, this has touched thy lips; and thine iniquity is taken away, and thy sin purged." (Is. 6:7)
Bind me to the altar in some way so that I cannot move. I do not want to be found struggling while Your will is being done. "The Lord God is my strength, and He will make my feet like hind's feet and He will make me to walk upon High Places. To the chief singer on my stringed instruments." (Hab 3:19) I long to go higher with Thee. Lord, open my eyes to see more of Your light. Help me to a fuller understanding. I want unbroken fellowship with You, my King. Walk with me where I walk, sit with me where I sit and allow Peace and Joy to accompany us.
I accept with joy all that You have allowed to happen to me on my journey and everything to where the paths lead. I am never to evade it, but accept it and lay down my own will on the altar and say, "Behold me, I am your handmaiden." I have learned to forgive, to let go of bitterness, and to grow in Your love. I have learned that You do not see me as a weak and crooked or cowardly vessel but You see me as Your designed me to be from the beginning. You always treat me as if I was a queen, with much love and graciousness. My Lord, I want to regard others in the same way. There is no circumstance in life, no matter how crooked, distorted or ugly it appears to be, if I react to it in love, in forgiveness and in obedience to Your will, it can be transformed.
I must remember that as long as I live in agape love and in joy and acceptance I can never again become crippled, and I can follow You where ever You lead.. I'll be able to go down into the Valleys of the world to work with You there, and it's where the evil and sorrowful and ugly things there I need to overcome.
O great Shepherd, take my hand and lead me, teach me how to reach others as You taught me Your ways. Teach me and I will say it for You, as Your willing vessel. Let everyone in the valleys of unforgiveness, of bitterness, of gloominess, see what You have for me, when they see Joy and Peace. I do think that in the end You can help them too. I plead for them my King, that their misery and loveliness and sorrow will make them more willing to listen to news of Your grace and of Your desire to help them. I want to pour out my life in gladdest abandonment, leaping down with You to the sorrowful, desolate places below, to share with others the wonderful new life You have given to me. Let me pour fourth myself in Love's abandonment of self-giving.

Written and compiled by VSD-G
"Hind's Feet in High Places" 2000
The Lord Is My Shepherd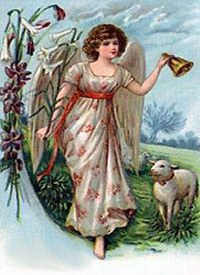 The Lord-He is My Shepherd!"

God the Father is the author-the originator of all that exists. It was His mind, first, that took shape.

God, the Son, our Savior, is God the artisan -the artist, the Creator of all that exists. You brought into being all that has been originally formulated in the Fathers mind.
God, the Holy Spirit, is God the agent, who presents the facts to both my mind and my spiritual understanding so that they became both real and relative to me as an individual.
Father to think that You, God in Christ is deeply concerned about me as a particular person immediately gives great purpose and enormous meaning to my short sojourn upon this planet. The greater, the wider, the more majestic my concept is of Christ -the more vital will be my relationship to Him. He is my Shepherd -my owner - my manager.
It staggers my mind that the fact that Christ Jesus, the Creator of such a large universe of overwhelming magnitude, designs to call Your-self my Shepherd and to invite me to consider myself Your sheep -Your special object of affection and attention. Who better could care for me?
As I stoop down and pick up a handful of soil from my yard, place it under an electron microscope, I am astounded to discover it teems with billions upon billions of microorganisms. Yes, You are the Christ -the Son of God, brought it all into being. I have to admit Your ownership of me as a human being is legitimate and no one is better able to understand or care for me. I belong to You simply because You deliberately chose to create me as the object of Your own affection.
To think Lord Jesus, You demonstrated at Calvary the deep desire to have men come under Your benevolent care. You, absorbed the penalty of my perverseness, stating clearly that "All we like sheep have gone astray, we have turned everyone to his own way and the Lord hath laid on Him the iniquity of us all" (Isaiah 53:6). So therefore, I truly belong to You simply because You bought me again at an incredible price. Therefore, You are entitled to say, "I Am the Good Shepherd. The Good Shepherd giveth His life for the sheep.
Lord Jesus, despite the fact that I am just like a sheep, You still selected me, bought me, and called me by name, made me Your own and You delight in caring for me. You literally lay Yourself out for me, continually. You are ever working on my behalf to ensure that I will benefit from Your care. I take pride, my Shepherd, in belonging to You.
You are magnificent in Your unselfish spirit of forgiveness for the fallen folk, but terror to those who indulge in double talk or false pretenses. You came to set men free from their own sins, their own selves; their own fears.
You, who insist that You are the Good Shepherd, the understanding Shepherd, the concerned Shepherd, care enough to seek out and save and restore lost men and women. I bear Your mark my Shepherd, the mark of the cross which identifies me with You for all time.
I call on You, my Shepherd, I recognize Your right to me and I recognize Your authority and I acknowledge Your ownership. I find freedom and complete fulfillment in this arrangement. Lord Jesus I sense a purpose and a deep contentment because I am under Your direction. So with genuine gratitude and exaltation I exclaim proudly just as David did, "The Lord is my Shepherd!" and I am thrilled to belong to You, for it is thus that I shall flourish and thrive no matter what life may bring to me.
VSD-G
Psalms 23 1/27/01

I Shall Not Want

Father, because I belong to Your Son, and recognize Him as Lord and Master of my life, my owner and manager, I have been permeated by a deep, quiet, settled peace, that is beautiful to behold.
I have entrusted myself to Your care and control and I find myself very contended. I am completely satisfied with Your managing my life. You are my Good Shepherd who provides for me throughout the days. I am contented, well fed, safe and secure in Your loving care. You Word tells me it's Your "life". You give all You have to it. You literally lay Yourself out for those You love. Repeatedly throughout the day and night You cast Your eye over Your flock to make sure that all is well. You neither slumber nor sleep, therefore when trouble arrives You are ready at the least sign of trouble to leap up and protect me. "Blessed be the Lord, who daily leadeth us with benefits-even the God of our salvation." He that keepeth thee will not slumber or sleep.
Father, life is full of hazards. We can never tell what today will bring. We live either in a sense of anxiety, fear, and foreboding, or in a sense of quiet rest. Generally it is the "unknown", the "unexpected", that produces the greatest panic. My first impulse is to simply get up and run from them. Then in the midst of my misfortunes, there comes the awareness that You, my Savior, my Good Shepherd is here for me. Your presence in the picture throws a different light on the whole situation. My outlook on things changes and there is hope. I'm delivered from the fear; rest returns and I can relax again. (Praise Your holy name!) I relax in the knowledge that my Master, my Friend, my Owner has things under control -now I can lay me down in peace and sleep for Thou, O God keepest me.
You come quietly to reassure me that You, are aware of my dilemma and are deeply involved in it with me. And with that assurance, Father, I can rest and relax. "For God hath not given us the spirit of fear; but of power, and of love, and of a sound disciplined mind." (2 Timothy 1:7)
Master, when my eyes are on You, all my foolish, selfish snobbery, and revelry ends. In Your presence I find peace and contentment. Being close to You, conscious of Your abiding Presence, made real in my mind, emotions, and will by the indwelling gracious Spirit sets me free from fear and from fellow man, and what ever they think of me.
Father, You sent Your gracious Holy Spirit to bring healing, and comfort, and relief from the harsh and abrasive aspects of life. Your Holy Spirit makes real in me, Your very presence. He brings quietness, serenity, strength, and calmness in the face of frustration and fruitility. When I turn to Your Holy Spirit and expose my problems to Him, allowing Him to see the dilemma, a difficulty, a disagreeable experience beyond my control, He comes to assist. Thank You, my Shepherd for sending Your Holy Spirit.
You have cleared my life of those rocks of stony unbelief. You tore out the roots of bitterness, You have broken up the hard, proud human heart of mine and sown seeds of Your precious Word, which if I give it a chance will grow and produce rich crops of contentment and peace. You water me with the dew and rain of Your own presence by the Holy Spirit.
Your care for me, my Shepherd, is beyond my comprehension, the best I can do is to enjoy and celebrate in what You have brought into effect in my life.
I thank You and give You praise and glory! Amen
VSD-G
Psalms 23
2/1/01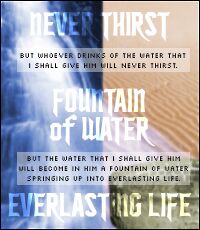 He Leadeth Me Beside The Still Waters
Psalms 23
Father, just as my physical body has a need for water, my Spiritual soul also thirst for living water, the Water of the Spirit of my eternal God. If I disregard watering my soul on Your living Word, I will end up polluting my heart with unclean thoughts, that will soon make me sick. My Good Shepherd has made it clear in the Word that my thirsty soul can only be fully satisfied when my capacity and thirst for spiritual life is fully quenched by drowning on Him. "Blessed are they which do hunger and thirst after righteousness for they shall be filled [satisfied]" (Matthew 5:6).
Father, I want to drink in Your Word so that the very life of Christ is a part of me. "O God! You have made me for Yourself and my soul is restless, searching, till I find my rest in Thee".
You alone know where the still quiet deep clean pure water of my soul is, in Your Word, it will lead me to safety, and fullness satisfying my thirst. It is in the quiet early hours of the morning that You lead me beside the quiet still waters, where, I absorb the very life of Christ for the day. My quiet time with You, my Master is like the old hymn of the past puts it, "The still dew of Your Spirit can be dropped into my lap and soul." I come away refreshed in mind and spirit, ready to tackle the day. I am fully satisfied and happily refreshed; nothing pleases me more than our time together in the morning of every new day. Your Word says, You delight to know my soul and spirit have been refreshed and satisfied.
Father, I have tried drinking deeply of the well of the world only to turn away unsatisfied-unquenched in my soul, thirsty for peace and rest. "My people...they have forsaken me, the fountain of living waters, and hewed them out cisterns, broken cisterns that can hold no water" (John 2:13). My life was broken, shattered hopes of barren soul all dried up and parched and full of dust and despair! But, praise Your holy name, my Shepherd reached down and took hold of my hand and gave me another drink of living water from His well. He came to me in the midst of chaos and of a confused mind and soul. My Shepherd came quietly as of old and invited me to follow Him once again. You knew my human heart, my human personality, my human soul with its amazing capacity for God, could never be satisfied with a substitute. Only the Spirit filled life of my Shepherd can satisfy my thirsty soul.
Every time I have been led into a dark, dangerous and somewhat disagreeable situation, You were there ahead of me, guiding and leading me beside the still waters to safety and rest. You are the only one who made sense and put purpose and meaning into the situations that come my way, which otherwise would have been a mockery to me. Suddenly life had meaning again, as I discovered I was the object of Your special care and attention.
I thank You, my Shepherd, for inviting me to be lead and guided by Your own gracious Spirit, as You lead me into truth, as my guide and counselor. You make me to see that life in You, is the only truly satisfying life. You have become to me, very meat and drink -that Your resurrection, and overcoming life was imparted to me by Your Spirit, and each day I will be refreshed and satisfied, as You lead me beside the still waters.
VSD-G
2/2/01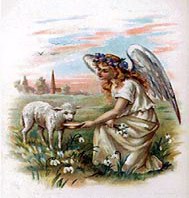 Yea Though I Walk Though the Valley

Psalms 23
My Shepherd, You know from firsthand experience all the difficulties and dangers, as well as the delights of the travel into the journey to the mountaintop with Thee. You will never take me where You have not already been, You have already gone ahead to pave the way before me. Even under adverse conditions of the journey nothing takes You by surprise. You are always fully prepared to safeguard me and tend to me with skill under every circumstance. "I will not fear for Thou art with me." You have always been with me in every situation, in every dark trial, in every dismal disappointment, in every distressing dilemma.
So often, my Shepherd I speak to You of wanting to move onto higher ground with You. How I long to live above the lowlands of life. How I want to get beyond the common crowd to enter to a more intimate walk with Thee. I have come to realize I can only gain higher ground by climbing up through the Valleys. You then lead me gently, but persistently up into the paths that wind through the dark valleys. "Yea though I walk through the valleys of the shadow of death." I do not die there or stop there-but rather, I walk through. This is not a death unto eternity but merely the door into a higher and more exalted life of intimacy with Thee. Death is but a dark valley opening out into an eternity of delight with You. It is not something to fear, but to experience through which one passes on the path to a more perfect life. "Lo, I am with You always-yes, even in the valley of death". Oh My Shepherd, what a comfort and what a cheer.
My disappointments, my dilemmas, the dark difficult days, though they be shadowed valleys, need not be disasters. They will be the roads to a higher ground in our walk together.
I know I cry out sometimes, "O My Shepherd, this seems terribly tough, but I know it will prove to be the easiest and gentlest way to get to higher ground. Then, my Shepherd, I thank You for the difficult things-the dark day as I realize You were there through it all, holding my hand. You assure me all will turn out well and for my best, because You are with me and You have everything under control.
As I enter into the higher ground, I find that I have a new and intimate relationship with You, which makes my life much more bearable than before. I have discovered that going through these rough valleys makes one thirsty and I find my refreshment in You. You lead me through the deep troubles and I discover that You lead me to find refreshment in You right in the midst of my difficulty. I am thrilled beyond words when restoration comes to my soul and spill from Your gracious Spirit.
It stimulates my faith in You, my Shepherd when I look back and reflect on Your faithfulness to me in every crisis and every chilling circumstance of life. Over and over You have proved Your care and concern for my welfare. Storms may break about me, predators may attack, the rivers of reverses may try me to inundate me, but, I shall not fear, for Thou art with me forever. "…in this world ye shall have tribulations; but be of good cheer; I have overcome the world.." (John 16:33) No matter what trials come, I will face them calmly, because You sent Your gracious Spirit to guide me and I will face them fearlessly. I know that only through them can I possibly travel to higher ground with Thee. Thank You my Shepherd.
VSD-G
2/17/01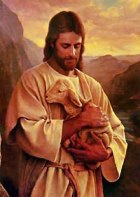 He Leadeth Me in The Paths of Righteousness for His Name Sake
Psalms 23
Abba Father, we are habitually like sheep, creatures of habit, which follow the same trails, until we pollute everything we do. We become corrupt and diseased with worldly notions and ways, making of ourselves idols. And just as sheep need careful handling, we humans need shepherding from a heavenly Father. We let our lives become over loaded, neglecting the Word and prayer; we struggle with being infected by worldly ideals and with worldly playthings. Father, our behavior patterns and life habits are so much like sheep it's well nigh embarrassing.
We are stiff-necked and stubborn people. We prefer to follow our own fancies and turn to our own way. "All we like sheep have gone astray; we have turned every one to his own way." (Isaiah 53:6) Father we do this over and over again even to our own disadvantage, we are so full of self-pride and self-assertion. We simply do what we want even spite of the warning of Your Word.
I read in Proverbs 14:12 & 16:25, "There is a way which seemeth right into a man, but the end thereof are the ways of death." But praise Your Holy name, my Good Shepherd comes and gently says, " I am the way, the truth and the life, no man cometh unto the Father, but by me." (John 14:6)'I am come that they may have life and that they might have it more abundantly." (John 10:10) Most of us Father do not want to be led in the paths of righteousness; somehow it goes against our grain. Have mercy upon my stubborn will, Lord. I pray You will keep me on the potter's wheel, molding me and making me into the image of my great Shepherd.
Father, the stubborn, self-willed, proud, self-sufficient sheep that persist in pursuing its old paths and grazing on old polluted ground will end up a bag of bones on ruined land. The world we live in is full of such people. Broken homes, broken hearts, derelict & twisted personalities remind us everywhere of men & women who have gone their own way. The greed & selfishness of mankind leaves behind a legacy of ruin and remorse. But amid all the chaos and confusion Christ the Good Shepherd comes and say, "If any man will follow me, let him deny himself daily and take up his cross and follow me." (Mark 8:34)
Abba Father, I lay down self to take up my cross to follow my Good Shepherd. Lead me, my Shepherd where You will. Father instead of loving myself most, I am willing to love Christ best and others more than I. "Hereby perceive [understand] we know the real love of God, because He laid down His life for us." (1 John 3:16)
Father instead of being one of the crowd, I am willing to be singled out, set apart from the gang. I want to be different in a deep, distinctive way, not just to the minor details that appeal to my selfish ego.
Instead of insisting on my own rights, I am willing to forego them in favor of others. Master, I want to deny self, it is not easy, nor normal, nor natural to do this, but I'm willing to pocket my pride to take a back seat to play second fiddle without feeling of being abused, or put upon. To enter new ground with You. I want to enjoy a wholesome outlook of carefree abandon that will make my Christian life contagious with contentment and gaiety.
Master, instead of being "boss" I am willing to be at the bottom of the heap. May the desire for self- assertion, self-aggrandizement, self-pleasing give way to the desire of simply pleasing You and others. I willing put my personal affairs in my Shepherd hands for His management and direction.
Instead of finding fault and always asking "why?" I am willing to accept every circumstance of live in an attitude of gratitude. Father, to know beyond doubt that You are handling my welfare is to be lead in to a wide area of peace, quietness and strength for every situation.
Instead of exercising and asserting my will, I am willing to learn to co-operate with Your wishes and comply with Your will. Instead of choosing my own way, I am willing to choose to follow in Christ's way, simply to do what You instruct me to do. I want to go where You invite me to go, say what You instruct me to say, to act and react in the manner You maintain for my own interest as well as for Your reputation. You make this possible by Your own gracious Spirit who was given to those who obey. (Acts 5:32) "For it is He who works in us both to will and to do Your good pleasure."(Phil 2:13)
My Shepherd, continue to lead me in the paths of righteousness for Your names sake.
VSD-G 2/10/01

Thou Preparest A Table Before Me
Psalms 23

Thank You, My Shepherd for preparing a table in the presence of mine enemies. Your eagle eye is sharp for any sign of trouble and You are ready to pluck me up and set me down on solid rock before I fall.
Your scriptures warn me that Satan is roaring around like a Lion ready to devour me. But, You also point out that You are interceding for me in prayer to the Father, anticipating what dangers I may encounter and praying that I will not succumb to it.
My Shepherd, who knows every wile, every trick, every treachery of my enemy Satan and his companions, comes to my rescue. So many times, we as Christians get into deep difficulties beyond ourselves, where we are stricken dumb with apprehension, unable to call or to cry out for Your help; we just crumble under our adversaries attack. But, as my Shepherd, You are concerned about me, You will not allow this to happen. You want to forestall such a calamity. If I would just use common sense and stay close to You, You will protect me. I must spend time in Your Word each day and spend time talking to You and then give You the opportunity to converse with me by Your Spirit.
As my Shepherd, You clean up my life-You remove the dross that has clogged up my life, to bring forth the gold. You go before me in every encounter-You, have been tempted in all points as I have, You know my sufferings; You have experienced my sorrows; endured the struggles of life. You were a man of sorrows and acquainted with grief. Because of this You understand me. You have identified Your self with humanity. You therefore have compassion for us beyond our ability to grasp. You make every possible provision to insure that when we cope with Satan, sin or self, the contest will be one sided. It is with this attitude of rest in You, confident in Your care, that Your presence makes the Christian life one of calm and quiet confidence.
The Christian walk can thus become a mountain top experience. A tableland trip, simply because we are in the care and control of the Shepherd, who has walked over all the territory before us and prepared a table for us in plain view of our enemies, who would demoralize and destroy us if they could.
Just because my Shepherd has gone ahead and makes every provision for safety available, does not mean I will be free of adversities. Predators can still attack; storms of life can come swirling over the peaks, and a dozen other hazards can haunt me. My Shepherd insures me I shall have some gladness with my sadness, some delightful days as well as dark days, some sunshine as well as shadows.
When I come to the Lords Table and partake of the communion service which is the feast of thanksgiving for His love and care. I think about what it cost Him to prepare a table before me. What love the world has ever known. God looked down upon sorrowing, struggling humanity and was moved with compassion for the contrary, sheep-like creature He had made. My Shepherd chose deliberately to give up deity to live amongst us so that He could set us free by His shed blood.
This meant laying aside His splendor, His position, and His prerogatives as the perfect Faultless One. He knew what He would endure for a sinner such as I. He took upon Himself-all the sorrows, illnesses, crimes, murder, incest, drug abuse, alcolhism, thefts, adulteries and much more. He was branded as a glutton, a drunkard, and a friend of sinners. Why, I ask would Jesus want to save a sinner such as I. In short, My Shepherds coming to earth as Jesus of Nazareth was a straightforward case of utter self sacrifice of love that culminated at the Cross. He laid down His life and poured out His blood for you and me. This was LOVE. This was GOD. This was divinity in action; delivering men from their own utter selfishness, their own stupidity, and their own suicidal instincts as lost sheep unable to help themselves.
Jesus told us that He had come that we may have life and have it more abundantly. He is so pleased when I (we) walk in the ways of holiness of selflessness, of serene contentment in His care, aware of His presence and enjoying the intimacy of His companionship.
Thank You, my Shepherd to find a table set before me because of Your love for humanity and me.
Written from Psalms 23
VSD-G 3/10/01

You Anoint My Head With Oil

Psalms 23
As my Shepherd, You anoint my head with oil as You take me out into the green pastures, along the still waters, up though the mountain top to the high tablelands where there is clear running springs, where the forage is fresh and tender.
So soon, I must leave my mountain top experience to come down into the valleys because of a fly in the ointment. Most often it's the small petty annoyance that become burning issues that can well nigh drive me around the bend. Most times its some tiny, tantalizing thing that torments me to the point of where I feel I'm just beating my brains out. Its then, I pray for Your gracious Spirit to counter act the ever-present aggravations of personality conflicts.
Just one filling of the Holy Spirit is not sufficient for me; it must be an ongoing anointing. The daily frustrations demonstrate that I must have Him come continuously to my troubled mind and heart to counteract the attacks of my tormentors. In Luke 11:13, my Shepherd Himself urges me to ask for the Holy Spirit to be given me by the Father. I must have that daily anointing of Your gracious Spirit upon my mind. Only You can form in me the mind of Christ Jesus. The Holy Spirit alone can give me the attitude of Christ.
When circumstances beyond my control begins to bug me, It is then possible to be content and serene when the outside forces are counteracted by the presence of Your Spirit. Romans 8:1-2 clearly states that it is the law of the Spirit of life in Christ Jesus that makes me free from the law of sin and death.
It is the daily anointing of Your Spirit that produces in my life such personality traits as joy, contentment, love, patience, gentleness and peace. When it gets too hard to handle, I cry out to You with these petty, annoying, peevish problems. Please apply the oil of Your Spirit to my mind, my Shepherd, so I may cope.
To keep my mind and spirit from the contamination of the world, I must be conscious daily, & hourly of the purging presence of Your Holy Spirit, applying Him to my mind. I invite Your Holy Spirit to come into my conscious and subconscious mind to monitor my thought life. By faith I believe and know and accept and thank You for coming into my life. I believe and know and accept Your anointing upon my mind.
You anoint my head with the Oil of the Holy Spirit to make it through one more day. Thank You, my shepherd for taking such good care of Your sheep. Thank You for being my Shepherd.
Written from the Psalms 23
VSD-G 4/21/01
Lord, bless the people
and the Nation Israel!
I Pray for the peace of jerusalem
may they prosper that Love you, Lord!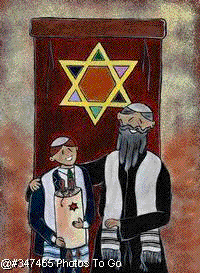 Recommend to a friend

View My Guestbook
Sign My Guestbook
Sign My GuestBook